The celebrated and most controversial spiritual leader in Nigeria, Satguru Maharaj Ji, who leads a communitarian group with various names, such as One Love Family; the One Love Mission; One Love, One Family and the Divine Love Family has reecho that he is the Perfect Master on earth.
Satguru Maharaj Ji made stated this during an interview session on Fresh Fm, monitored in Ibadan, saying he is the only Maharaji alive at the moment, and that "he is the owner of heaven and earth and everyone is his children."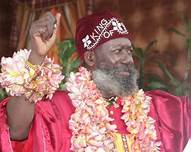 During the interview, he also made it known that he doesn't have any child, no wife because, according to him he isn't human, but totally spirit and the only children he has are everyone on earth.
While speaking on the reason behind the choice of his ministry colour which is red and sometimes, yellow, he replied that the moon has colours like yellow, orange and that is where he got the choice from.
He disclosed that red stands for love, and also protects from evil things. He advised people to always go for red because it averts evil.
On why his members are vegetarians, Satguru Maharaj Ji revealed that they are not allowed to eat anything that has life in it.