Chief Olusegun Obasanjo, the Former president of the federal republic of Nigeria has said that he harboured no personal grudges against President Muhammadu Buhari, but only critical about his style of government and leadership of the country.
Obasanjo made this known on Tuesday March 5, 2019 in his remark at his 82 Birthday Lecture organised by the Centre for Human Security and Dialogue of the Olusegun Obasanjo Presidential Library (OOPL), Abeokuta, the Ogun State capital.
The birthday lecture was delivered by the former South African Minister of Home Affairs, Mangosuthu Buthelezi.
Obasanjo, reacting to the remarks of the Alake and Paramount Ruler of Egbaland, Oba Adedotun, Aremu Gbadebo, who jokingly advised Obasanjo to stop disturbing his boss (Buhari), declared that he could never keep quiet, but criticise bad governance.
He said he had led the country longer than any Nigerian would ever do,  insisting that he would always be critical of bad leadership, even if his own blood brother was at the helm.
Obasanjo noted that Africa has no alternative to democracy, good governance, development, and economic growth and declared that people who keep quiet about bad leadership are accomplices to the crime.
He reiterated that he remained a boss to President Buhari and asked Alake to tell his "boss" to do the right thing or be ready to face more criticism from him.
He said: "I believe that Africa has no alternative to democracy, good governance, development, and growth of our economy. We have none. And if that is not happening in any country, those who keep quiet about it are accomplices to the crime.
"In a democracy, you criticise a policy of a government is not a family affair, even if it is my brother that is there and he is not doing the way he should do; he must be criticised. That is what democracy is all about – criticism and seeing the other side.
"So, if I say anybody in government in Nigeria or any government for that matter is not doing well, let that government prove that it is well. It's not anything personal. So, Kabiyesi (referring to Alake of Egbaland) (tell) your boss, Buhari; there is nothing personal between me and him. Just as he is your boss, I am his boss, with all due respect.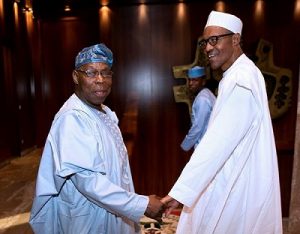 "Now, the point is that I have been in that position longer than any Nigerian will ever be there. That's true. If any Nigerian comes in and has two-terms, he will not have almost four years of military rule. So, I have been there longer than any Nigerian would ever be there.
"So, when I say something I know what I am talking about. Kabiyesi, anytime you say, "leave my boss alone," I say "he is your boss". But I am also his (Buhari) boss. So, you might also ask your boss (Buhari) to leave his boss alone or do what it is right that his boss wants him to do."