Zainab Bolanle Otaru is an Islamic artiste and IT Engineer/Web Designer. In this no-hold-barred interview with AbuSatar Hamed, the Kogi State-born upcoming star opens up on her journey in the music industry and other sundry issues. Excerpts.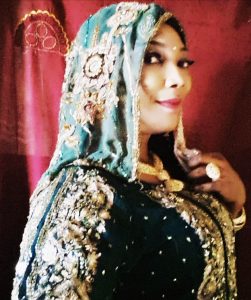 When did you starts singing?
Yeah. I started singing since the age of 6.
Under whom did you trained as a musician or you just started playing music?
Nobody trained me. Just got my talent from childhood and also have the ability to sing in Arabic Language
What type of music do you play?
I play Islamic Music, and I'm planning to modernise it with a view to introduce hip-hop beats in my song.
Why that type of music and not Juju or hip-hop?
Like I said earlier, it's an Islamic Music
What's the name of your band?
The name of my band is SIVON – Shukuralillahi Islamic Voice of Nigeria.
What inspired you to take to music?
Naturally I love music regardless of its genre. I started singing from childhood and attending Islamic singing competition. I perform very well right from my childhood days.
Who are your favourites in the Nigeria's entertainment industry?
My favourites in the scene are Alhaji Kamorudeen Ayeloyun, Seyidat Iyanghana, Alhaji Saoti Arewa, Ere Asalatu, Barrytide, Shebaby, Funke Akindele etc.
Have you drop any album in the scene, if yes how many and their titles, if no, why have you not?
Alhamdullilah! I have these tracks to my credit -Allah lo le se – (Only God can do it), Opeyemi – (Praise be to God), Mad'eniyan – (I'll be an Influential personality), Wagbemiga – (Uplift Oh God), which is the latest one. More tracks shall be released in my upcoming video.
Do you perform live and where have you featured since you started playing music?
Yes. Award events, Islamic gatherings and other occasional events.
What was the audience response to your music and performance(s)
Audience use to love my performance. They appreciate and comment positively.
Where do you want to be in the next five years?
In the next 5 years, I want to be a super star and as well release a super hit album, an award-winning singer both in Nigeria and international countries. One of my albums is already making waves on social media…."Wagbemiga". It gonna take me to places.
What do you hate most in people?
I hate cheating, unfaithfulness and mockery.
How did you relate with your male fans?
I relate with them wisely and in a respectful way. I don't sound rude to them. I appreciate their kind gestures whenever they throw positive admiration to me.
What's your best colour and foods?
My best colour is Navy blue and pink. My best food is pounded yam with well cooked vegetable soup.
Who do you wish to meet in life?
I wish to meet Alhaji Aliko Dangote, Our President and The President of USA.
As a performing artiste how does you combined your married life with entertainment?
I'm married. It's not easy managing both together, but I think I know how to handle both peacefully and whenever they throw positive admiration at me.
What is the effect of music in the society?
To me, music is an inspirational knowledge and food of thoughts to mankind. With good music, you can improve your state of mind from negative to positive mood.
Who's Hadjia Zainab Bola?
My name is Hajia Zainab Bolanle Otaru. I'm from the royal family of Otaru Ohindasi of Okene in Kogi State.

I'm a Computer Scientist. I read Computer Science at Lagos City Computer College and Ogun Sate Polytechnic known as Moshood Abiola Polytechnic, Abeokuta.
I'm into Islamic music. I've been in the industry for more than a decade.
Aside my music career, I work as an IT Engineer and ICT Consultant/Web Design. I work at Masters Energy Group as an Info Tech Engineer/Web Designer. I'm a fashionsta as well as an Islamic Scholar.