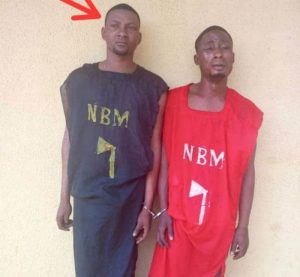 ILARO-YEWA: Comrade Adegboye Emmanuel Olatunji, the impeached Student Union Government President of Federal Polytechnic Ilaro in Ogun State who was arrested alongside some other cult members confessed that he decide to join the group to boost his reputation and pedigree even after his tenure.
He disclosed that he was advised to join the cult – Aiye (Black Axe) as they are the dominant force that can guarantee him the power and protection he needs for a successful reign as the SUG president at the institution.
The former SUG president admitted that he regretted ever taking that kind of decisions to join the group and hope he survives the pain, torture and bitterness he is facing right now as a result of his actions.
The SUG President is a highly respected student on the school campus and that's why many students supported and campaign vigorously for his success at SUG presidential election in 2019 and he eventually emerged winner.
Mr olatunji was arrested in his full regalia with another member by the vigilante group in Gbogidi area of Ilaro, and handed them over to the chief security of the Federal Polytechnic, Ilaro who now took them to the police.
In another development, the Students Representative Council of the Federal Polytechnic, Ilaro has impeached the President of it's Student Union, Mr. Adeboye Emmanuel Olatunji.
In a release signed by the Speaker of the Council, Hon. Akinsola Sakiru, A. and Hon. Olabode Samson on behalf of the Clerk of the Council, Hon. Lawal Damilola, the President was impeached in line with Article ix, Section 4a and Article x, Section 2 of the Student Handbook.
The release added that the impeachment takes immediate effect and that the Vice President of the Union, Comrade Oyefusi Damilare Festus should take charge as the Acting President.