By Raymond Osho
ABEOKUTA: The Students Union President of the Federal Polytechnic, Ilaro, Adegboye Olatunji , who was arrested alongside one Olanrewaju by operatives of the Ogun state police over allege involvement in cult activities has claimed he was charmed by unknown cultists and taken to the bush for initiation.
He explained that he was on his way to the church when he lost his consciousness and found himself in the bush with some cultists, and later arrested by men of Ogun State Police Command.
Adegboye spoke on Tuesday, February 11, 2020 at the Police headquarters, Elewera, Abeokuta while being paraded alongside other 77 suspected criminals for various crimes ranging from cultism, robbery, gun-running, murder and assault among others.
During the parade, the state Commissioner of Police, Kenneth Ebrimson said, "Adegboye was apprehended with his regalia and we have refused to let him pull off so that he doesn't deny, and you can see it for yourself".
Earlier during the parade, Ebrimson told journalists that the suspect had confessed to him during an interview that he is a cultist.
But when Adegboye was engaged by journalists, he promptly disagreed with the CP, claiming , "I never confessed any of such thing to him."
He said, "Before I knew what was happening, they have started beating me. What I heard was that I know how to fight on behalf of students that house rent is high, that 's what I heard and they tore my clothes, put me inside the boot and took me to school".
On his mission in the bush before his arrest, Adegboye said, "I don't know how I got into the bush. I was charme, I don' t know how it happened.
"I was going to the church around 7am on Sunday, I left the school's hostel. When I was leaving, I greeted the security man and told him that I will be back probably at 3pm, that my brother called me to come for the service and I want to rush there.
"I sent a message to the choir coordinator of my church that I am going to Judah Parish, in llaro, my Rector is also going to that church and he hates anything cultism".
He affirmed, "I don 't know anything about this. I 'm not a member. When they brought this cloth, I wanted to drag it with them that the cloth is stuffy and it is not my cloth; it was the vigilante that sprayed pepper on our faces.
"I don't know anything about this and I have been brought here, my school hates cultism or anything that will disrupt the academic calendar, so, we don't even try to cause any riot".
He also lamented that he was abandoned by his colleagues and the Rector of the school, saying, "Nobody to fight for me now except the National Association of Nigerian Students. Everyone has abandoned me.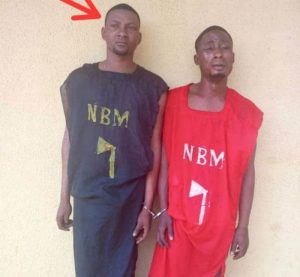 When the other suspect, Olanrewaju, who was arrested alongside Adegboye, was asked whether he knew Adegboye, he said he had never seen him before their arrest.
He also denied being a cultist, saying, "I am not a cultist, I didn't see him (SUG President) before we were brought here.
"I swear to God who made me, I don't know how I got to the bush".