BY RAYMOND OSHO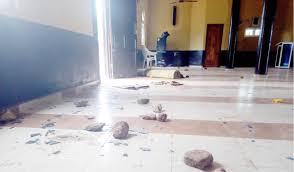 It was a sorrowful Saturday for Muslim faithful in Idi-Iroko, Ipokia Local Government Area of Ogun State as some enraged traditional worshippers allegedly stormed a mosque in the area leaving items worth millions of naira damaged.
It was gathered that the traditional worshipers launched the attack  at 1:20pm on that fateful day, holding to reason that the Muslim faithful allegedly acted contrary to their warnings while they observed their ritual.
It was also learnt that the attackers got angry because Muslims called people to prayers in flagrant disregard to the warning not to do so when the Orisa Oba ritual was being performed.
Idi-Iroko is a border town between Nigeria and Benin Republic and the predominant people of the area are known for their tradition, despite the event of civilisation.
StarTrend Int'l reporter on Sunday August 5, 2019 gathered that the name of the worship center is Umar bin Khatab Mosque, Odan-Aje, located behind the General Hospital at Idi-Iroko, Ogun State.
The attackers left the windows shattered and other materials beautifying the worship center utterly destroyed.
The indigenous people of the area have since time immemorial been observing Orisa Oba and during this period, everybody is expected to stay indoors for two or three days.
We learnt that residents are usually warned to abide by these restrictions each time the ritual is being observed. The last ritual took place over 10 years ago, an insider said.
People in the area however alleged that this was not the first time a mosque would be attacked over the similar issue, saying a mosque along Aferiku Road had ceased to exist following such an attack in the past.
A Muslim faithful, Mallam Abdulrasheed Oke, who was among those observing Zuhr in the affected mosque when the incident happened, said, "There were seven of us observing the prayer. Three of us were adults while others were young boys.
"Suddenly, we heard some people throwing stones at the window. Initially, we thought it was a violent wind, but when a stone almost broke the head of the person leading the prayer, we knew there was trouble. Within a blink of an eye, the generating set went off.
"Some of us immediately stopped the prayer and a person summoned courage, stepped out and discovered that the hoodlums were already taking away the generator. He chased them and retrieved the generating set. We were all taken by surprise, but we dared not retaliate because they were many," Oke narrated.
The Imam in charge of the mosque, Abdulazeez Omoakin, described the action as unfortunate, saying, "Before the day we were attacked, we heard that nobody must go to mosque and whoever wished to pray must do so in his house. But we are law abiding people and we all know it's only the government that can restrict movement. And we know the law allows us to practise our religion,'' Omoakin said.