By AbuSatar Hamed
Due to her quest towards the promotion of Nigeria's socio-economy in the international environment Ms. Denise Ajayi Williams, President & Co-Founder of the Silicon Valley – Nigerian Economic Development Inc. (SV-NED) has officially invited and welcomed many government and corporate officials to many SV-NED programmes in Silicon Valley, California.
She has successfully invited and received in Silicon Valley the Vice President of the Federal Republic of Nigeria, Prof. Yemi Osinbanjo, former Minister of Defense, Mansur Dan Ali, and His Imperial Majesty, Ooni of Ife, Oba Adeyeye Enitan Ogunwusi (Ojaja II) among a host of others.
Recall, SV-NED has successfully completed two Immersion Training and Certificate Programmes with a graduating class of 120 Nigerian college students.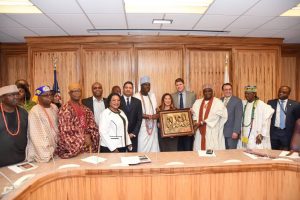 Within three years of its establishment, SV-NED was recently invited Bay Area Council to join their 2019 Cross Border Tour to China. The tour led to SV-NED developing accelerators in three continents – North America, Asia, and Africa.
The one-week tour through China, according to the Bay Area Council was organized to promote investment and trade expansion into the world's second largest market.
Council Chief of Global Business Development, Del Christensen led the 2019 California Cross-Border Delegation, which included a wide variety of startup and other businesses eager to identify new opportunities in clean energy, biotechnology, healthcare and software.
The delegation included Telesagen CEO, Michael John Fero, iGlobal Advisory Co-founder and CEO Helen Li, Meishan California Smart Town Investment & Development President Jeffrey Chang, the Precise Nutrition Founder Semant Jain, Numly Founder and CEO Madhukar Govindaraju, Sillicon Valley Nigeria Economic Development (SVNED) President & Cofounder, Denise Williams, including SVNED Board members Kasham Iliya and Javan Kweisi-Toure Stewart.
In addition to participating in business matchmaking sessions in the Yangpu District of Shanghai, the Yuhang (Future Tech City) in Hangzhou and the Gulou District in Nanjing, the group attended the City of Nanjing's 2019 Tech Week.
The Tech Week event celebrated Nanjing's efforts to expand innovation and smart city initiatives, and explored new collaborative opportunities with the City of Jiaxing. Delegates pitched their projects to a variety of investors and startup partners, established contacts with government officials, gained insights from US-China business experts and discussed further cooperation and opportunities with potential investors, partners and government officials.
With four offices across China, the Council's business development platform is available to help all Bay Area companies and organizations to access China's growing markets and attract investment to California. To engage in the Council's China work.
According to the leader of the delegation, the Council will continue to serve as the strategic advisory team for these companies as they attract important technology investments from China.
SV-NED is also responsible for the successful completion of two Immersion Training & Certification Programmes with a graduating class of 120 people all from Nigeria.
Williams serves on the board of 3 companies, including SV-NED Inc., Global Connection for Women Foundation, and Sky Clinic Connect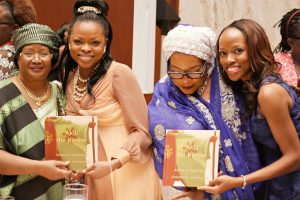 SVNED Inc. is also committed to attracting capital investment in the field of infotech, agtech, health tech and edtech to further promote economic development growth opportunities to improve the potential of human capital.
The outfit also facilitates the creation of business opportunities, designed for Silicon Valley technology companies to bring their businesses into Emerging Markets.