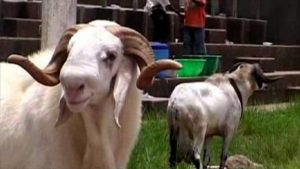 A ram owner was recently stabbed to death at Isawo, Ikorodu, Lagos, during a fight over the sum of N4, 000 he lost in a bet.
It was scooped that the deceased, identified as Yusuf, had taken his ram for a fight against another ram owned by one Tiny and they both bet with N4, 000.
However, after Yusuf's ram was seriously knocked out and he lost his money, he started a fight with Tiny, who stabbed him to death with a knife.
The killer has since been arrested.