LAGOS: Nigerian politicians are now grooming their children to take over from them in politics when they retire from their political career.
Some of them even give their children political appointments when they are elected into government so that their offsprings can also learn their political tactics from them.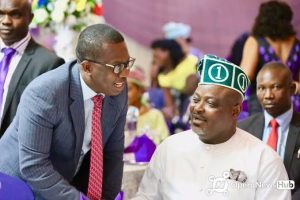 One of such leaders is the current Minister of Information and Culture, Alhaji Lai Mohamme who was also the former Publicity Secretary of the All Progressive Congress (APC).
Recall, he gave former President Goodluck Jonathan tough time in office as he criticized all his ideas and moves then.
Against this backdrop, his son, Jubril Folajimi Muhammed is also toiling his line.Born on August 1,1980 Folajimi is a member of the Lagos state House of Assembly, representing Ikeja constituency 1. He was elected in 2015 and was later reelected in the 2019 election.