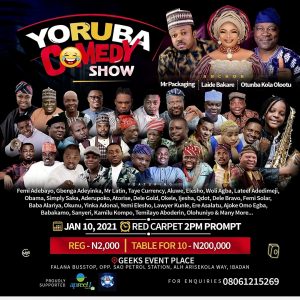 By Seyifummi Odunuga
IBADAN – One of the awardees for the forth-coming OGO YORUBA AWARDS (OYA), Mrs. Bolaji Awoyemi, fondly called, Queen Bejay De Grace, has disclosed how she was nominated for the award, saying that her positive impact on the poor and needy in the society, both at home and abroad fetched her the award.
OYA award was designed to unite, honored and appreciate distinguished Nigerians, who have and still doing great exploits in their chosen fields, and to promote the concept of integrity, known as OMOLUABI.
Awoyemi, who is the Chief Executive Officer (CEO) of Manpro Services and Logistics, both in Nigeria and Manchester while speaking with news men on Monday, December 28, 2020 in Ibadan during an interactive session said that lots of Nigerians are struggling to feed themselves due to bad economic situation in the country, adding that standard of living abroad is far better than Nigeria because of provisions made for their citizens which Nigeria government failed to do.
The Manchester-based Gospel Juju singer noted that she have been receiving awards since year 2002 in appreciation for her charity work by giving back to the society, but was exited to be among the nominees for this forth-coming OYA Awards because the organisers of the award must have seen her impact on the people, both at home and abroad before considering her worthy of the award.
According to her, "I have tasted poverty before, i hawked soya beans, I grew up in Felele hustling and I made a promise while hustling that if God could bless me to the extent that I can feed myself, then I will also give back to the society. One of my charity work is adopting kids, paying their school fees, giving out cash, cloth and food items to the less privilege in the society."
The music producer and business enterprenure who hails from Imesi-Ile in Osun State stated that she has been with OYA group for the past four year and this is the first time she will be receiving the award, adding that the award is special and unique because its organizers has been giving it out based on someones impact in the society and putting smiles on the faces of the masses.
Awoyemi however called on well-meaning Nigerians in the Diaspora and government to come to the aide of the masses who are suffering and had one financial problem or the other, saying that this will reduced poverty rate in the society.
She said, "Let's reached out to the poor and needy in the society to reduced the poverty level, no matter how long we stayed abroad, this is our home and charity should begins here, we don't need to have million before we can help people, we can assist with the little we have."
Some of the celebrities shortlisted for OYA Award include Chief Sunday Adeyemo, (Sunday Igboho), who is the Father of the Day, Erelu Titilayo Ogunubi, founder of Elizabeth Ebun Foundation, Caretaker Chairman, Ibadan North LG, Hon. Waheed Adeniyi (Biro), and Alhaji Bashiru Akande, CEO, Opulence Creation Fashion $ Outfits.
Others include Chief (Mrs) Anike Alajogun, CEO/Managing Director, MATAAN Hotel $ Suites and Princess Ojutalayo Christiana, CEO, AMT Exclusive Synergy Limited and founder, AMT Foundation.