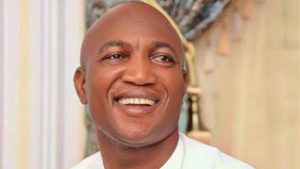 Following the sack of Bayelsa Governor elect, David Lyon by the Supreme Court on Thursday, February 13, 2020, one of his entourage that followed him to the Synagogue, Church Of All Nations (SCOAN), owned by Prophet TB Joshua has made some revelations of how David Lyon was warned.
Here is his confession: "I am one of the entourage that followed David Lyon from Bayelsa when he visited the SCOAN three times.
"I was there when Prophet TB Joshua insisted to David Lyon that he wanted to see the Deputy-Governorship candidate, Senator Biobarakuma Degi-Eremienyo – because he was seeing an obstacle. However, the sacked Deputy-governor said he would not come to The SCOAN because he is a Secretary General to Olumba Olumba.
After Degi-Eremienyo refused to come – despite several invitations from TB Joshua – the Man of God publicly declared that it was too early for Lyon to share his testimony and that the situation still required serious prayers. I believe David Lyon tried all efforts to bring him, but the man refused.
Even on Tuesday, February 11, 2020, David Lyon was in The Synagogue when the Supreme Court confirmed him as the rightful candidate. TB Joshua again asked him the whereabouts of his Deputy-Governor elect, stressing that he was still seeing an obstacle. Joshua was invited as a Special Guest to the inauguration on Friday, February 14, 2020, but he said he would not attend because of that obstacle. David Lyon laughed and told him he would come with Degi-Eremienyo to The SCOAN for testimony after the inauguration… Today, we can all see what has happened.
The question remains – who chose this man to be the Deputy-Governor? This is word and opposite. There is no way the two of them would have been able to work together effectively!.