By Seyifunmi Odunuga
IBADAN – The celebrated ace gospel singer, Damilare Odunuga, a.k.a Dare Melody, has narrated how he and his band members narrowly escaped death on the early hours of Saturday November 21, 2020.
Dare Melody quips, "I'm simply short of words to explain how it all happened, but it was in the wee hours of Saturday November 21, 2020.
"My band members and I left for Lagos from Ibadan where we just had successful outings at Celestial Church, Goshenland Parish and the New Seraph All White Concert, all in Ibadan."
He continued, The journey was smooth until around 4.15am, and band's vehicles were moving in convoy until we sighted the traffic at Mowe. As it became imperative, the vehicles' normal speeds were reduced to barest minimum.
"At this point, I suddenly heard a loud, nasty noise, a 40 feet heavily loaded truck struggled with brake failure and hit my car from the rear.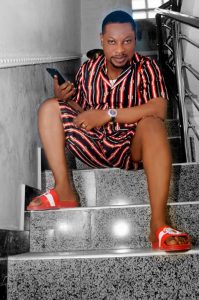 "The situation left me unconscious, for sometime I never knew what happened and where I was. My car had been tumbled and squeezed.
"I later heard voices, particularly the ones shouting he's our Chairman. That must be voices of my band members".
Still trapped in an obnoxious enclosure, Dare stated that certain negative thoughts ran across his mind until rescue came from passersby who joined his band members to open one of the doors and pulled out the four of them in his car.
"It was like watching a movie with lots of stunts. We were all healthy, safe, but this story is not good. It was only one of the truck boys that fell off It, during the accident that got severely injured.
"Everyone at the scene blamed and even threatened to beat up the truck driver, claiming that truck drivers had caused deaths serially on that road, but for quick intervention of officers from Mowe Police station, they were rescued".
Dare however expressed his grateful heart to God who spared his and others' lives, especially during the dreaded "ember" months.
Both his vehicle and the truck were taken to the Mowe Police station.
"Our plan was to get to Lagos early on that Saturday, settle at a relaxation apartment in Ilupeju before moving to Baptist Academy, Obanikoro where we later performed at a wedding ceremony.
"I give God the glory that I'm alive to tell this agonising tale. However, I passionately appeal to the federal government to quickly complete the Lagos-Ibadan Expressway and ensure that its agencies thoroughly examine worthiness of vehicles on our roads in the country. We have had enough of avoidable road accidents, our lives matter, please", Dare Melody posited.