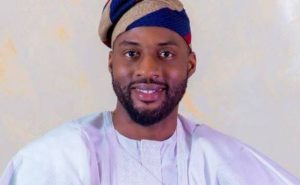 By Seyifunmi Odunuga
IBADAN – The Speaker, Oyo State House of Assembly, Hon Adebo Ogundoyin has joined many well-wishers and the PDP family to celebrate the former House of Representatives Majority Leader and the Ogbomoso-born politician, Hon. Mulikat Akande Adeola on the occasion of her 60th birthday anniversary.
Ogundoyin said it was an honour to celebrate this special moment with Hon. Mulikat Akande Adeola who is a great political leader that many people, especially the youths and women-folks look up to.
Oyo Speaker in a statement said the celebration of six decades of existence remains a milestone in the life of an individual, while he described the two terms House of Representatives member as a political mentor and an epitome of courage and strength.
While saying that the Oyo State PDP family has continued to benefit from the immense political, leadership and administrative experiences of Hon Mulikat Akande Adeola, the Speaker also said the celebrant remains a solid pillar of support for the present administration in the State.
His words, "I am happy to celebrate one of our elders, leaders, mentors and mothers in our great party, Hon Mulikat Akande Adeola. That you clock an enviable age of sixty calls for celebration. This is heartwarming as you have continued to glow and radiate love and happiness. You have lived a life worthy of emulation.
"Your record as the first woman to occupy the position of the Majority Leader of the House of Representatives in the 7th Parliament has remained unblemished and untarnished as you emerged through consensus. Your dexterity and sagacity in Law, Administration and politics even as a woman is not in doubt and these qualities have endeared so many people to you and have earned you respect among the old and young.
"As a great mobilizer and motivator, many people including my humble self have gained so much from your political style, consistency and dedication. It is my fervent prayer that God will grant you unlimited happiness and sound health to enjoy more years on earth." Ogundoyin prayed.
Hon. Ogundoyin further stated that the celebrant is a cerebral politician who has great impact on many people.