Some are born great; some achieve greatness, while some have greatness entrusted in them.
That's the story of a gentleman and philanthropist per excellence who at the age of 20 graduated from University of Lagos; became the CEO of an Insurance Brokerage Firm at the age of 23; founded a thriving Insurance company at the age of 29 and the company remains one of the leading publicly quoted Insurance companies in Nigeria today.
The dude was also appointed Chairman of the Governing Board of University of Uyo Teaching Hospital in 2013 and established an NGO called – Building Opportunities For Tomorrow (BOT) in 2010.
Many marks Barrister Olubiyi Oladipupo Otegbeye had made on the sands of time are testimonies to his remarkable contributions to the cause of humanity.
He is the founder and Group Managing Director of Regency Alliance Insurance Plc. He had his early education at Christ Church School, Porogun Alapo, Ijebu Ode, Comprehensive High School, Ayetoro-Yewa, and CMS Grammar School, Bariga, Lagos. He holds WASC and HSC certificates.
At the age of 20, he graduated from the University of Lagos in 1984 with a Bachelor's Degree in Insurance in 1987, and with a Master's Degree (MBA) in Financial Management and Accountancy. He qualified as an Associate of the Chartered Insurance Institute of London (ACI) in 1988.
Olubiyi studied Law at the Lagos State University and graduated with LL.B in Law in 2001. He went to the Nigerian Law School, and was admitted to the Nigerian Bar in 2003 as a Barrister and Solicitor of the Supreme Court of Nigeria.
Following his NYSC placement at Nigerian Reinsurance Corporation, Otegbeye began his working career as a Senior Manager at the United Nigeria Insurance Company Limited (UNIC) in 1986. In 1991, he was the General Manager, Capital Asset Insurance Brokers and he became the Chief Executive Officer (CEO) of Excel Insurance Brokers.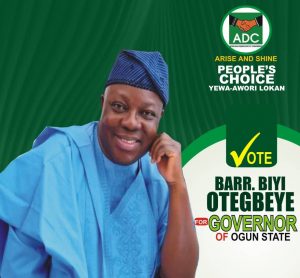 Very rich in intelligence and a visionary, Otegbeye founded the Regency Insurance Company Limited in 1993 at the age of 30 and the company became a publicly quoted Insurance Company – Regency Alliance Insurance Plc in 2007.
In 2012, Otegbeye was appointed by the Ogun State Governor to serve as a member of the fact-finding panel of Gateway Industrial and Petroleum Institute, Onne, and in recognition of his contribution to national development, he was appointed as Chairman of Governing Board of University of Uyo Teaching Hospital in April 2013 by the then President of Nigeria. From 2018 to 2019, he served as a member of the Ogun State Judicial Service Commission.
Otegbeye is also a member of Olabisi Onabanjo University Development Foundation, a Fellow Lecturer, University of Lagos, Fellow, School of Management, The Bells University and Fellow, School of Management, Caleb University.
Many marks Barrister Olubiyi Oladipupo Otegbeye had made on the sands of time are testimonies to his remarkable contributions to the cause of humanity.
BOT as he is fondly called is a recipient of many recognitions and awards. They include Merit Award, Ogun State Chambers of Commerce and Industry, Merit Award, Comprehensive High, Ayetoro-Yewa, Old Students Association, Merit Award University of Lagos Alumnus Association, three times Merit Award Distinguished Son of Yewa and recently recognised in Top 25 CEOs Award for Companies Listed on the Nigerian Stock Exchange.
Biyi who sits on the Board of many companies either as Chairman or Director is a compassionate man who is reputed for his zeal in youth education and empowerment in Ogun State.
He is the founder of Building Opportunities For Tomorrow (BOT), an NGO established in 2010 for youth development, women empowerment and medical intervention. The impressive initiative has impacted over 27,000 beneficiaries till date.
In terms of his political affiliation, Otegbeye is a proud member of the African Democratic Congress (ADC), Ilaro Ward 1, and Ogun West Senatorial District. Before becoming an ADC member, he was a member of APC. In 2015, he was the Senatorial candidate of Social Democratic Party (SDP) for Ogun West Senatorial District. In 2019, he was the APC candidate for the Yewa South/Ipokia House of Representatives election.
Aside his business and political interests, Otegbeye is passionate about his continuous education and development. He has attended several local and international conferences at world renowned institutions. Some of which are Northwestern University, Management Institute of Technology (MIT), Columbia Business School, Chartered Insurance Institute, Lloyds of London, etc.
As a role model and a beacon of hope to all people of goodwill, BOT has also presented several papers, many of which have been published locally and internationally on the subjects of Insurance, Law, Corporate Governance, Business Ethics, Retirement Planning and Youth Development.
As a visionary and lover of humanity, he indeed has the welfare of the people in mind. He is a friend of his community and in the history of Ogun State and Ogun West in particular he had made people to be community conscious through his baby – Building Opportunities For Tomorrow (BOT).
Barrister Olubiyi Oladipupo Otegbeye is happily married to Dr. Comfort Otegbeye and the family is blessed with three children.