ABEOKUTA – The Committed Minds for Positive Development Initiative, a well-focused grassroots campaign organization in Ogun State has promised to deliver One Hundred Thousand (100,000) votes to the ruling party (All Progressives Congress) in the coming elections.
The Group's Cordinator, Engr. Olufemi Michael Abioye, disclosed this in Abeokuta on Thursday, January 5, 2023, at the inauguration ceremony and presentation of certificates to two hundred (200) groups in Ogun State.
Engr Abioye stated that the Group was established to handle the APC political campaigns in a different and better way such that the grassroots will be involved the way it should be.
The Group under the umbrella of the National body – Coalition of APC Support Groups (COASUG) has realized that the grassroots over the years have been deprived of the right information to form a just opinion, hence, Committed Minds for Positive Development Initiative is set to take the right and true information to the people's doorsteps even to the most remote villages across the Ogun State.
His words, "The Group will ensure that money bags don't have a field day, rather, we will assist the people to make a duly informed decision about who is capable to rule them in the next four years.
"We are APC Support Group, and self-financing. We have been directed from Abuja to register which we have done, and today, as you can see us been presented with certificate. In short, so far, we have not collected any fund or rebursement from anybody or from any arms of government.
"I want to assure our candidates that with the popularity and influence of my group members, we are capable of mobilising up to a Hundred Thousand voters for both our Presidential and Governorship candidates. Other positions can be assured of getting up to 40% of the votes through our efforts".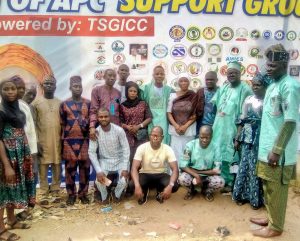 The event was also attended by members of various groups across the state with the Ogun State Governor Dapo Abiodun in attendance.
Members from Egbado South local government area include Hon. Babatunde Edunjobi, the State Treasurer, Alhaji Idowu Hamed (Yewa South Coordinator); Mr. Rasheed Odugbemu (Deputy Coordinator); Esther Ayokanmbi (LG General Secretary); Mrs. Wuriwat Olabisi Babatunde (Yewa South Woman Leader) and Madam Babatunde Iyabode (LG. Deputy Woman Leader) among others.
Representatives of the group from Yewa North were Alhaja Safuratu Akinsanya, Sister Busayo Abati, Alhaji Lawal Kamorudeen Babatunde and Mr. Gabriel Isaiah.
The State Executive Committee members of the group in Ogun are Hon. Allen Taylor O.W. (Deputy State Coordinator); Mr. Bunmi Ogundipe (State General Secretary); Mrs Kayode Kuburat Oyodele (State Assistant Secretary); Mr. Adedapo Taofeek (State Publicity Secretary); Mr. Oladijo Musiliu (State Youth Leader) and Hon. Edunjobi Babatunde C. (State Treasurer).