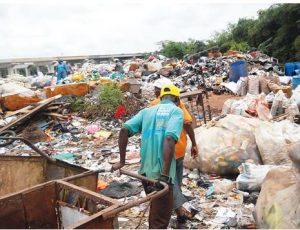 The menace of environmental degradation ongoing in many metropolise in Ogun state, as a result of indiscriminate dumping of refuse around town is displeasing.
A nonpartisan and nongovernmental group, the Gateway Media Organization (GMO) in a release signed and made available to StarTrend Int'l magazine by Omooba Damilare Oloyede, Coordinator of GMO, on Friday, August 9, 2019 in Abeokuta, the State capital, says the people of Ogun state wants the new government to pay utmost attention and prioritize issues concerning environment, particularly the issue of waste management.
Omooba Damilare Oloyede charges those in the ministry of environment to up their ante in the issue of waste management, and make Ogun clean deservingly.
His words, "We need to charge those in the ministry of environment to sit up, up the ante and show concerted efforts in the issue of management of waste. The spate of environmental degradation that has littered many of our metropolis is too glaring that it has constituted too much of embarrassment to us as citizens and residents of one of the most enlightened state.
"The permanent secretary and top management staffs of the Ministry Of Environment, the Waste Management Agency and Ogun State Environment Protection Agency (OGEPA) must be summoned to swift actions"
The released further stated that GMO had embarked on fact finding public pulse gauging research in the last six weeks, the result which unraveled that there is love lost as regards environment issues, particularly that of waste management.
"In the last six weeks, our team has been in major metropolitan cities of Ogun state, we went on a fact finding public pulse gauging research, and we were warmly received by the people of Ogun state, who are expecting so much from the new government of Prince Dapo Abiodun.
"With much commendation coming towards special attention the Abiodun government has given issues of education that has swiftly returned Moshood Abiola Polytechnic, Ojere, the excellent approach to security issues, transport management new ideas, urgent road rehabilitations amongst others, the people of the state specifically raised eyebrows when it comes to environmental issues"
"In Abeokuta, Ilaro, Ijebu-Ode, Ogijo, Otta, Sagamu, Akute and Mowe, some people in these area expressed their concerns on waste management. Some even advised that the governor should instantly name a Special Adviser on Environments, who can communicate the ideals and ideas of the Abiodun administration to the civil servants in the Ministry Of Environment".
GMO said, a resident of Obafemi Owode local government wants the Dapo Abiodun government to urgently attend to their concerns in clearing heaps of refuse that litters the Mowe and Ibafo axis of Lagos-Ibadan expressway.
"One Dewunmi Balogun, who reside within Mowe, Obafemi Owode LG expressed her concerns about issues of waste management, the young business lady asked that the governor should mandate officials to come clear heaps of refuse that dots Mowe and Ibafo".
GMO further advised that just as the people wished; it is high time that a Special Adviser on Environment is named to steadily liase the new government with civil servants in the ministry of environment.
"We love to specially advise the governor of the state, Prince Dapo Abiodun, to quickly appoint a Special Adviser on Environment, who understands the ideas and ideals of 21st century waste management, someone who will be on his toes to ensure a clean, healthy and sane environment.
"We sure know this government knows his onion, steadily the people of Ogun state are understand the fact that governance is not noise making", the statement concluded.