Imam Tajudeen Mustapha Adewunmi was the Ogun State Amir-Hajj to the 2017 Pilgrimage to Mecca and Medina. In this interview with AbuSatar Hamed & Abiola Fufai, the Islamic scholar opens up on the thrill and frills of the 2017 Hajj, including sundary issues. Excerpts.
What is your role in Ilaro and Yewa in general as a Muslim leader?
I am the Chief Imam of Ilaro Central Mosque, and also the Secretary, Ogun State Chapter of Nigeria Inter-religious Council (NAREC), also Secretary to League of Imam & Alfas in Ogun State and also a coordinator of many Islamic organizations.
Sir, it is no longer news that you were the Amir-Hajj of Ogun state during the 2017 Pilgrim to Mecca and Medina, what came to your mind when you receive the letter that you will lead the Ogun State contingent to 2017 Hajj exercise?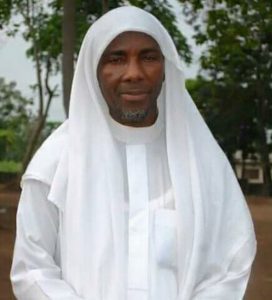 It was a big shock when I received the letter, and I was surprised that the government of Ogun State would even remember me. I did not expect it, it was a surprise thing to me and even then I did not have an international passport so I rushed down to passport office to do that. I was really surprise because I did not see myself as someone that would be an Amir-Hajj of the state this year. Though, I had been the Chairman of Muslim Pilgrims Board for the state, but I didn't know that I could be appointed as the Amir-Hajj again by the State government.

Sir, what was your first action when to took the appointment?
Immediately I received the message, I rushed down to the office of the Secretary to the State Government, Barr. Taiwo Adeoluwa to express my gratitude to Governor Ibikunle Amosun for being kind to me. So after that I went to the passport office to obtain my International Passport, and the people at the Nigeria Immigration Commission (NIC), Abeokuta were very kind that they treated me very well and within three days I got my passport. I want to use this opportunity to thank the Secretary of the Muslim Pilgrim Board, Alhaji. Kalejaye. He is such a nice person that cooperated with me so much and assisted me even when it has to do with getting documents from Abuja.
He was there for me throughout and he facilitated the procurement of an International Passport that would make me walk around in Mecca. During the Hajj Alhaji Kalejaye was with me, he indeed made my stay in SaudiArabia and duty as Amir-Hajj of Ogun State an easy period for me and the pilgrims. Alhaji Kalejaye is such a nice person, very kind, accommodating and as a brother, I want to thank him so much.
Sir, what about the Chairman of the Muslim Pilgrim Board?
Alhaji (Dr.) Isiaq Yusuf is an International scholar, he schooled in Saudi-Arabia, where he bagged his first & second degrees, and also his PhD., so, he was up to the task, so also the members of the board. Alhaji (Dr.) Isiaq Yusuf is even one of the editors to the best magazine in Saudi-Arabia; He was classmate to the present Inspector General of Police,Saudi Arabia. Alhaji (Dr.) Isiaq Yusuf is from Ogun State. His father was an Author of many Islamic books. He's very nice, accommodating and his also a speaker, he talks and he talk sense.
Sir, when you get to Saudi-Arabia how did the pilgrims behave?
The first batch was in Medina before we took off here in Nigeria, and when we got to Medina the pilgrims behave well and at the custom and security check points where we were suppose to enter Medina there was no issue or report of any drug trafficking or any offence(s), it was smooth trip.
The first one that went before me, second batch, and the third batch that came after me were screened and there was no any criminal offence, no record, or report of any bad thing. The hotel that the board got for us was just three minutes walk to the Haram. One thing that I observe is that Amir-Hajj is not the boss of the pilgrims; if you want to be a leader, that person should be among them and be their servant, that is what I have done for them and throughout the period, we slept, we dined, and talked together in the same place, I do not prefer any other place than where the pilgrims were, it was a good experience.

The only thing that I observed is that government should allow the board to say no to some ladies going to Mecca. These young ladies were not even good for our local mosque in Nigeria, and they don't know why they were in Mecca, they were not many, but just few of them. The board should have the right to tell these type of ladies that they were not fit to travel to Mecca even the Hijab that they wore were not good for Muslim ladies, so, I advice the Chairman of the Pilgrim Board to in the future screen properly whoever among women going to Mecca and Medina The aged women behave according to Islamic injunctions, government has to do something about the young ladies going for pilgrimage.
How would you describe the hospitality in Saudi Arabia?
It was wonderful and fantastic. Saudi authorities see every pilgrim as guest of the most Merciful and they treat us as such, as people that have come to greet Allah. If you go to Saudi Arabia before the Hajj, you will know that it is a wonderful place with well organized people, their infrastructure is fantastic, there is electricity and water running from every tap at every corner and security patrol is everywhere. No record of any crime anywhere. Despite the fact that pilgrims came from different parts of the world, such as America, Africa, Europe, Asia etc nobody can commit any crime and get away from it, because everywhere is under strict security surveillance.
What kind of things will keep lingering in your memory after year 2017 Hajj exercise?
What I saw in Arabia this year was the beautiful expansion of the Holy land, and the way the Saudi Arabian government keep with time. Eleven years ago when I was in Hajj, I never thought that Haram mosque would ever been big as it is today, it was fantastic with their technology advancement. Everything about Saudi Arabia is now computerized, and I want to tell you that if you see a new thing in Mecca today and you go there another time, you will find a better things added to it, that tells you that we Nigerians still have a long way to go.
I have never seen things that I saw spiritually this year, it will forever go on in my mind and to say that prayer request was not answered means that such request was not good. When I got there I saw many wonderful things and Allah answered many prayers. I prayed that many Muslims willing to go for Hajj, Allah would bless them and answer their prayers.
How would you compare Saudi Arabians to Africans?
Well, they are very honest and trust worthy people Africa, but Saudi Arabia are very truthful and they hate cheating If you buy anything and forgot to collect your balance, they will run after you to give you back your balance. Money is nothing to them and they have fear of God, but in Nigeria we love money so much which is not so in Saudi Arabia. They worship God with total submission to Him and they are very sincere to all and sundary.
Do you have any advice to the state government?
I want to thank the Ogun state government for making the dreams of those who didn't think they could have opportunity to travel to the Holyland this year, a reality. Ogun state pilgrims did not encounter any hardship or difficulties and even when the board has a problem, the state governor was there for us. I want to once again use this medium to appreciate Governor Ibikunle Amosun and his cabinet for a good gesture at ensuring that the pilgrims perform this year Hajj without difficulties and any inconveniences. The Governor has done so much to make this year Hajj a huge success. May Almighty Allah continue to bless Gov. Amosun and his cabinet and help him to complete his tenure successfully in 2019.:
Were there any casualties from Ogun State?
Alhamdulillah, there's no single casualty, that is why I want to also use this medium to thank the board members and their medical team which was led by Dr. Bello and Dr. Kusimo. They were fantastic and up to the task. They work tirelessly at Mecca and Medina and they didn't sleep, tried to work, day and night. One pilgrim that collapsed during the Hajj was rescued immediately at the spot, and was taken to the hospital. Members of the board were united and cooperated among themselves, which apparently contributed to the success of this year Hajj.
How will you describe Governor Ibikunle Amosun?
He is a true Muslim to the core, someone who knows the difficulties and experience of the Hajj. He is a good-hearted person who provided moral and financial supports to the pilgrims during the Hajj. He has done so many things to make this year Hajj a successful. He has been very good to us and the Almighty Allah continues to bless him.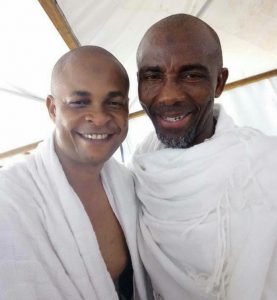 Sir, lets come to politics, concerning 2019 people are saying a Yewa man should be the Governor. What is your take?
I have said it, even at the presence of the Governor Amosun when we went for Hiftur and Ramadan lecture at the governor's house that it is the turn of Yewa and we will never compromise that with anybody. Insha Allah I am a man that nobody can buy with money and it is the turn of Yewa and I stand by it. Anybody can manipulate anything; thank God that we have the support of His Excellency who has promised to give his full support to Yewa in 2019. But we (Yewa) also have to be united, and I will use this opportunity to call on our people not to give in for any division, but work together in unity at ensuring that Yewa man became governor in 2019. the Ijebus are expecting us to come out with one candidate and they are very rich than us and in support of Yewa, they are educated people, all we need is for Yewa elites and traditional rulers to call all the aspirants together and come up with one candidate that we can rally round instead of multi-candidates that will lead us to nowhere. This time around it is either now or never.
What would you say to the Muslim community that hold forth for you when you were away to Mecca& Medina?
When I came back, I prayed for them. They have done wonderfully well, the things that I would have done if I'm around, were done by them, perfectly. Even the youth also cooperated with the elders. Theyare wonderful people. My deputy – Alhaji Musa and all the Alfas did very well. There was no complaint of any kind when I came back, it was fantastic and I have prayed for them when I returned that Almighty Allah will be good to each and everyone of them.