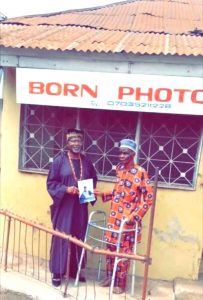 By Oloye Lekan Alabi
IBADAN – The Ibadan-based popular photographer, Pa David Owolabi Ositelu, better known and called "Born Photo", on the Christmas Eve, Friday, December 24, 2021, peacefully returned to his Maker. Aged 86.
Born in Agege, Lagos State on Christmas Day, December 25, 1935, the Ogere-Remo, Ogun State indigene died while taking a nap in his iconic "BORN PHOTO" studio, located at Basorun Apampa Street, Isale Osi area of Ibadan, Oyo State of Nigeria.
Nafisat, the daughter of his friend, had been assisting him pro bono. It was she, on her return from the Friday Jumat that discovered him dead.
To millions at home and abroad,"Born Photo" is the 'password' (I almost typed passport) to the identity of the inter-unction (Orita) of the four roads running down from the Ibadan Central Mosque, Oja 'Ba- Ile 'Ba-Elesinmeta-Ode Ekerin, into Isale 'Jebu – Iyana Asuni-Popo road to the left, Gege-Agbeni road to the right and flowing down to Atenda – Gege Olopa – Oke Foko-Oke Ado stretch.
The late photography icon, Pa Ositelu's studio has been the brand identity for our beloved axis of the city of Ibadan, since the 1960s.
It would be recalled that it was Born Photo who took the passport photograph on the first Nigerian international passport which the late Governor Isiaq Abiola Ajimobi of Oyo State travelled to the USA in the early 1970's.
When I told the late Gov. Ajimobi, one day during our discussion, that the great photographer was still alive, he sent a large sum of money through me and his younger brother, Gbolagade, to deliver to Pa Ositelu.
Pa Ositelu was also the photographer who took my humble self's passport photographs for my secondary school entrance exams in 1963.
His high profile clients included the late Chief Obafemi Awolowo, Alhaji (Honourable) Adegoke Adelabu Penkelemesi, General Olusegun Obasanjo (rtd) and Colonel Adegboyega Adeniran among others.
Pa Ositelu was commissioned into the Nigerian Army as a photographer during the Nigeria Civil War (1967 to 1970). He was also a high society photographer.
You will be shaken, and not shocked, by the fact that the Born Photo area is home to former Governor Rasidi Ladoja of Oyo State, who is the incumbent Osi Olubadan, as it was home to Alhaji Alimi Adesokan, alias "Leemy", a late Chairman of the defunct Ibadan District Council and Parliamentary Secretary to the late Premier Samuel Ladoke Akintola of Western Nigeria, the late Captain Lateef Adegboyega Bello of the Nigerian Army, Abass Olawoyin, the goalkeeper of Nigeria Academicals FC, the first Nigerian soccer team to ever defeat any Ghananian soccer side on their soil, Iponriku Lakangudu masquerade, one of the leading seven Ibadan traditional masquerades, Raimi 'Sango', Paramole, both political activists, in the 1960's, etc
On May 8,, 2013, I hosted Pa Ositelu to a luncheon at our club, Omo Ajorosun Club, Agodi, Ibadan, out of my humble conviction that Nigeria should honour her heroes/heroines while alive and not posthumously.
If my guess is right, from the day Born Photo died, sirens will start blaring and heralding belated visits by public/private 'sympathisers' with high vaulting and hollow promises to the Ositelu Family at their Alaadorin Ibadan home. Yoruba call such 'sympathy' "Oju Aye" (Eye service/Crocodile tears). Pa Ositelu would not need fakery anymore.
May the noble soul of Pa Ositelu "Born Photo" rest in perfect peace. Amen.