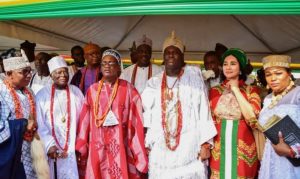 GHANA: President of the Republic of Ghana, Nana Akufo Ado has that Ghanaians migrated from Ile-Ife in Nigeria to settle down in Ghana, describing the Ooni of Ife, Oba Adeyeye Enitan Ogunwusi as the royal symbol of Pan Africanism.
The Ghanaian president represented by Vice President Muhamudu Bawumia stated this during a conferment of chieftaincy titles on some descendants of Oduduwa organised by the Yoruba Traditional Council Ghana.
His words, "the Ghanian people and other tribes migrated here centuries ago from Ile-Ife. That is why we have Onipopo and Oninana as Ghanaians till today. Accra, Osu, Labadi, Teshi, Nungua, and Tema are all settlements started by the Ghanian forefathers who came from Ile-Ife in Nigeria. That's why the Ooni of Ife is highly esteemed here in Ghana.
"So, Nigerians and Ghanaians are one people and today's occasion is an avenue to showcase our cultural bond to the world. Your Imperial Majesty the Ooni, my President, His Excellency Nana Akufo Ado who is your friend is away in the UK for another Pan African summit with several African presidents, including president Buhari of Nigeria. He has asked me to assure you of his support in your efforts at fostering unity among the African people worldwide."
"If you look at the relationships amongst various African tribes, you will know that if our monarchs and chiefs get along, our people too will surely get along. This means that the African monarchs must be united if the continent must move forward. That's why you stand out and we must commend your Majesty for this".
Ado, however, urged Oba Ogunwusi not to relent in his peace and unification efforts despite challenges of distractions posed by those who have nothing to offer and which will not stand a test of time.
"There must be close interactions, inter relationships among our traditional chiefs which you have been leading. Don't worry Your Majesty, we know there are distractions here and there, remain focused, those ones have nothing to offer, you just keep being humble as you are and we will eventually achieve our dreams of a united Africa", Ado added.
In his address, Oba Ogunwusi thanked the government and people of Ghana for always showing him love and respect manifesting through the warm reception accorded his two visits to the country, saying he always feels at home in Ghana.
Oba Ogunwusi said, "Ile-Ife is your source, you have always made me feel at home, I said this in 2016 when I was here on the invitation of the then President John Mahama that Nigeria and Ghana would remain inseparable despite few challenges.
"Ghanaians are here, Nanas are here Popos are here even the Asantehene who is the king of our great Asante kingdom told me at his Kumasi kingdom that his forefathers migrated from Ile-Ife and different parts of Yorubaland in Nigeria some 500 years ago. So, we are one big family.
"I salute Ghana under the able leadership of Nana Akufo Ado for bringing Africans together, especially your African in Diaspora's project, this is very commendable. We all saw how last year September, you hosted multitude of our fellow Africans in diaspora especially from America and the Caribbeans", Oba Ogunwusi posited.