Chief Ebenezer Olatunji Ogundele is the President of All Nigeria Confederation of Principals of Secondary Schools (ANCOPSS), Ogun State Branch Chairman SW ANCOPSS and also Principal, Adenrele High School Snr, Ifo, Ogun State. In this interviews with AbuSatar Hamed the Comrade Principal opens up on his sojourn in the teaching career and other sundary issues. Savour it.
Recently you were elected as the Chairman of All Nigeria Conference of Principals of Secondary Schools (ANCOPSS), SOUTH-West zone, how do you feel when you heard the news?
It was wonderful. For my colleagues to repose such confidence in me and for one to get to the peak of one's profession is simply wonderful
Who and who are members of your team?
Other South West officers are – Mr. Dahunsi Osundina, President Osun ANCOPSS, was elected Vice Chairman, Mr. Yemi Lisa, Secretary Ondo ANCOPSS was Secretary, Mr. Biodun Omotoso, Ekiti ANCOPSS President is Treasurer, Pst. Olatunde, Lagos ANCOPSS President is Chairman Curriculum Committee, with Mr Itamah, Lagos Secretary, as Assistant Secretary.
What is the manifesto of your administration?
Our manifesto is to build an ANCOPSS that will attain the goals of Secondary education for National development
What is the role of the association in the nation building as it affects the students?
The role of our association is to produce students that will meet the Higher Education Potentials, necessary for tertiary education and all round National development
It is no longer news that there's shortfall in the standard of education in the country, but what do you think is responsible for that?
There are various problems that are affecting Nigeria's educational standard. They include the funding of schools by our government which is inadequate. UNESCO recommends that 26% of budget be used to fund education, but government is not doing this. Also shortage of teachers, facilities, parents not alive to their responsibilities, poorly trained teachers, poor welfare for teachers, constant and needless change of policies, poor attitude of students to teaching and learning…..
You are also the President of ANCOPSS in Ogun State, what can you say about the standard of education in the state?
It is gradually improving, but we still have lots to do to regain lost grounds.
What is your view on the cancellation of WAEC/NECO fees being paid by the government to assist parents and guardians of the students?
Government was only paying WAEC fees. Parents have been paying for NECO since. But parents need to assist government and to be more involved in educating their kids. Also when parents pay, they will impress it on their kids to perform well. Government cannot do everything with the lean resources
Some people are pointing accusing fingers to the government, others to the teachers, some say parents are responsible, while some school of thoughts say students are also responsible for the fall of standard of education, who do you think is responsible?
As pointed out earlier, fall of Education standard is due to many and myriad of reasons. Also we are not attracting our best brains to the teaching industry. Pupils learn best in their mother tongue. Countries like Japan, France, and Germany etc., teach using their indigenous languages and they excel, but that is not the case in Nigeria. Maybe if the country is re-structured…….
As Chairman of South-West of the association what can your union do to improve the standard of education in the South-West and Nigeria at large?
We are doing our best to ensure that we are part of the decision making process, providing training for teachers, counselling services for students, improved relationship and better synergy with education stakeholders
What is your advice to the government in the Federal, States and Local for the development of education in Nigeria?
My candid advice is that the 3tiers of government in the country should embark on adequate funding, improved teachers welfare and teaching to be made more attractive to get the best brains to teach
Methinks students also need some advice; do you have any words for them?
Students need to be more hardworking and pay more attention to their books
Wouldn't you think being the President of ANCOPSS in the South-West will not disturb your duty as the Chairman of the Ogun State council of the union?
No. My duties are mostly interwoven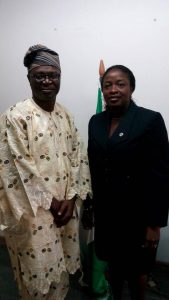 How would you want to live the association, both in Ogun State and South-West when your terms expired?
I want to bequeath an ANCOPSS that is more dynamic, purposeful, result oriented and a major stakeholder in the Education industry
How do you recreate and what is your best food?
I love to recreate by reading novels, watching movies, dancing, football (ManU for life!), while my best food is Eba and Egusi with Ogufe or bush-meat!
Who is Chief Ebenezer Olatunji Ogundele?
The little Ebenezer Olatunji was born on July 17, 1963 at Obanikoro, Lagos. I attended Wright Memorial Primary School, Somolu Lagos, Baptist Academy, Lagos. Universities of Calabar and Universities of Lagos. I got appointed as a class teacher in 1984, became Vice Principal, in 1994 and Principal in 2000. I worked in Ifedapo Comprehensive Comp High School, Abalabi, Egbado (Yewa) College, Ilaro, Oronna Hi Sch, Ilaro, Emmanuel Commercial High School, Ilaro, Pakoto High School, Ifo & Adenrele High School (Senior), Ifo. I served ANCOPSS as Zonal Secretary, State Orator, State PRO, State President and President, South West. I'm a Christian and happily married with kids.