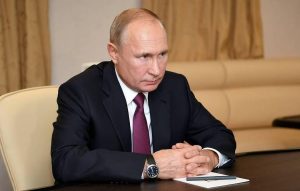 Russian President Vladimir Putin is planning to quit in January 2021 amid speculations that he has Parkinson's disease.
According to media reports, this coincides with one of Nigerian Prophet TB Joshua's prophetic messages for 2020.
"Russia should pray for their leader to avert his being on the sickbed. Something will surface," Joshua stated in his message released on December 28th 2019, adding there was a "ladder to go up" if this was averted.
Putin, who is 68, is reportedly suffering from Parkinsons as the president has been seen recently exhibiting symptoms of the disease. Recent footage show signs of weakness in Putin's hands as he even struggles to hold a pen, alongside a constant 'twitch' in his leg.
A report in New York Post quoted Moscow political scientist Valery Solovei as saying, "Putin's 37-year-old girlfriend, Alina Kabaeva, and his two daughters are pushing him to leave the office. There is a family; it has a great influence on him. He intends to make public his handover plans in January."
In the same message for 2020, Joshua equally revealed the circumstances currently unfolding in the American election.
"Approach to the security issue will affect the candidates and swing voters in the next election," he stated. "It will be tough in the election. They should pray against a recount. It may be too tight."
With Joe Biden on the verge of presidency, Trump's team have already indicated they will call for a recount in several of the hotly contested states in the tight race, in alignment with the cleric's prophetic utterance.
Joshua had described 2020 as "a year of humility", adding that "the Lord will humble us with our challenges" and calling on all people to "move closer to God"
https://www.youtube.com/watch?v=k6aJLBVG96c