ILARO-YEWA – Encomiums were showered on the outgoing 2-terms Rector of the Federal Polytechnic Ilaro, Arc. Olusegun Olarenwaju Aluko PhD, during the Valedictory Academic Session held in his honour on Wednesday September 7, 2022.
The Deputy Rector, Engr. I. K Ogunfayo who doubled as the Chairman of the special session graciously gave the floor to members of staff who gave heart warming testimonials about the Rector.
Responding, the outgoing Rector Aluko was full of appreciation to Almighty God, the management team, all members of staff and students of the Polytechnic for giving him the opportunity to serve and succeed in the capacity as the Rector.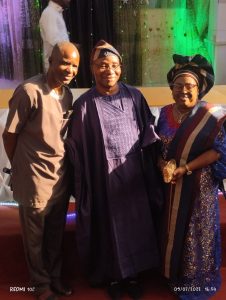 Aluko also thanked his immediate family for their patience, love and support all through his tenure as Rector not forgetting his late parents, who, according to him, suffered to instill various virtues in him which enabled him to succeed in life.
The valedictory session kicks starts various programmes lined up for the stepping aside of Arc. Aluko who became the Rector of the institution in 2014.