Many Nigerians have complained about how the country forgets their own, especially those who have served their fatherland in one aspect or the other in times past, when they are faced with difficult moments.
One of such victims is former Super Eagles goalkeeper, Peter Fregene, who suffered a spinal cord injury in 2001 and has been paralyzed.
Born on May 17, 1947 in Sapele, Delta State, Fregene narrated his pitiable condition and how his wife does everything for him, as he is unable to do anything. He called on Nigerians to help him come out of this plight, saying he doesn't want to die this way and that he would like to get back to his feet again.
Reports had it that Nigerian billionaire businessman Mr. Feni Otedola had also intervened when former Nigerian Captain and Coach Christian Chukwu was down with illness.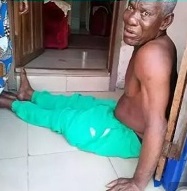 Peter Fregene represented Nigeria as first-choice goalkeeper from 1968 to 1971, where he featured in the 1968 Summer Olympics held in Mexico. He also played in the 1982 Africa Cup of Nations.
At club level, Fregene played for Lagos ECN, which was later renamed NEPA Lagos and also Stationery Stores FC. He won the Nigerian FA Cup with both clubs.
      *Culled from Opera News Hub