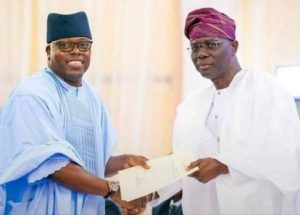 LAGOS: The Lagos State Executive Council led by Gov. Babajide Sanwo-Olu on Friday June 5, 2020 ratified the nomination and appointment of the State's former Commissioner for Agriculture, Prince Omogbolahan Abdul'Wasiu Lawal as the 15th Oniru-Elect of Iruland, Lagos state.
Prince Omogbolahan Lawal's appointment which takes immediate effect was decided at the State's Executive Council meeting after review and consideration of all legal procedures on Chieftaincy Matters.
The new Oniru-Elect who hails from the Ojora, Aromire, Shokun and Abisogun branch of Oniru Royal families of Lagos, was born on July 24, 1970 to late Chief T.A. Akapo-Lawal, the Ojora of Lagos (1977-1993) and Olori A. Akapo-Lawal.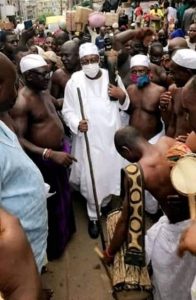 Prince Omogbolahan Lawal was a former Aide-De-Camp (ADC) to Asiwaju Bola Ahmed Tinubu when he was Lagos State Governor and voluntarily retired from the Nigerian Police as a Superintendent of Police (SP) in 2008 to join the mainstream of politics.
He was initially a Senior Special Assistant (SSA) to ex-Governor Babatunde Fashola before being upgraded to Commissioner for Agriculture. He served as Commissioner for Housing under former Governor Akinwunmi Ambode and was back as Commissioner for Agriculture under the present administration before he resigned on Thursday, June 4, 2020 to ascend the throne of his forefathers.
The Oba-Elect has immediately commenced traditional rites to the throne on the night of Friday, June 5, 2020.