Family, friends and wel-wishers roll out drums to celebrate Asiwaju Bola Ahmed Tinubu, a living legend, grass root mobilizer, National leader, the custodian of Nigeria's political history, astute politician, a political prophet and excellent personified who clocked 65 years on Wednesday 29, 2017..
In his speech at the 9th 2017 Bola Tinubu Colloquium to march the milestone President Muhammadu Buhari said; "Bola Ahmed Tinubu, the Asiwaju of the universe, the Jagaban of Borgu, is the most outstanding politician of his generation…he is good at planning development policies."

Bola Ahmed Tinubu was elected Senator for the Lagos West constituency in Lagos State, Nigeria in 1993, he also was elected governor of Lagos State (1999 – 2007).
He is said to be among Nigeria's most successful politicians ever. He is currently the national leader of the ruling party in Nigeria, All Progressive Congress (APC).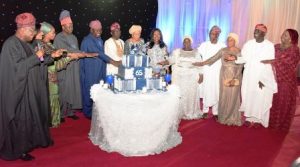 Asiwaju Bola Ahmed Tinubu was born in Lagos, Nigeria on March 29, 1952 to the illustrious Tinubu Family of Lagos State. He attended Richard Daley College, Chicago Illinois, where he earned himself a place in the honors list of the College. He subsequently proceeded to the Chicago State University, Illinois where he obtained a Bachelor's degree in Business Administration (Accounting and Management).
During his undergraduate years, he was honored with the Outstanding Student's Award, The University Scholar's Award and the Certificate of Merit in Accounting and Finance.
On his arrival in the U.S. in 1975 and with the support of an ever-adoring mother, this courageous youth, faced with an unflinching zeal to succeed, took on such menial jobs as dishwashing, night-guard and cab-driving to see himself through the initial difficulties of school at the Richard Daley College, Chicago, Illinois.
The brilliance of this young Nigerian showed in his ability to make the honours' list of Richard Daley College. He subsequently transferred to the Chicago State University, Illinois, graduating with honours in 1979 and earning a Bachelor's Degree in Business Administration (Accounting and Management).

During his first year in Chicago State University, young Bola was given the rare privilege to partly teach other students of his Faculty remedial tutorial classes. Most of his colleagues and contemporaries at the university attributed their improved grades to his tutorial lectures.
Throughout his undergraduate years, young Bola was on the Dean's List and was honoured with the Outstanding Student's Award, the University Scholar's Award and the Certificate of Merit in Accounting and Finance. He was also awarded the prestigious Sumna cum laude for scoring 3.54 out of possible 4.0 GP.
With his successful academic profile, young Bola contested and won his first political election as the President of the Accounting Society of the institution in his final year at the University.
Upon graduation with honours and several awards, Bola Tinubu cut his professional teeth at the American-based Arthur Anderson, Deloitte Haskins and Sells (now called Deloitte Haskins and Touche) and GTE Service Corporation – the largest Communication and Utility Company in the United States of America.

Meanwhile, at Deloitte Haskins and Sells, the young and professional Bola broadened his experience by participating in the auditing and management consultancy services of General Motors, First National Bank of Chicago, Procter and Gamble, International Harvester, GEC and other Fortune 500 firms.
On his return to Nigeria and with his international experience in Financial Management, young Bola joined Mobil Producing Nigeria as a Senior Auditor before he retired as the company's Treasurer.
As pragmatic, charitable, grassroots' person, Asiwaju Bola Ahmed Tinubu saw communal service as a veritable tool for social development. He never hesitated to serve his community spearheading several financial contributions and fund-raising for community development programmes in Lagos State. He leads Primrose Group, a political action organization pushing for fundamental changes in the politics of Lagos State.
Asiwaju Bola Tinubu opted fully for public service in exchange for his lucrative job at Mobil. His first foray into active politics was as a founding member of the defunct Social Democratic Party (SDP). In 1992, he was elected as an Honourable Senator of the Federal Republic Nigeria to represent Lagos West Senatorial District.
At the National Assembly, he distinguished himself as the Chairman of the Senate Committee on Banking, Finance, Appropriation and Currency – a foremost committee of the Senate.

With the annulment of the June 12, 1993 Nigerian Presidential Election and the consequent fresh militarization of the Nigerian politics, Asiwaju Bola Ahmed Tinubu became a founding member of the famous pro-democracy group, the National Democratic Coalition (NADECO) which, for several years, engaged the military for the very soul of Nigeria.
Subsequently, Bola Tinubu suffered many arrests and detention, harassments and constant threats to his life forcing him to flee Nigeria for his personal safety. He, however, did not give up the struggle as he joined NADECO abroad to continue the agitation for a restoration of democratic governance and the rule in the country.
In 1998, Asiwaju Bola Ahmed Tinubu returned to Nigeria to heed a call for all Nigerians to join in the National Reconciliation and Development. A year later, he began his two-term public service as an elected Executive Governor of Lagos State on the platform of the Alliance for Democracy (AD).
For his excellent performance as the Executive Governor of Lagos State of Nigeria (1999 – 2007), Asiwaju Bola Ahmed Tinubu received several awards. These include Best Governor in Nigeria for Y2000 by the Nigerian-Belgian Chamber of Commerce; Y2002 Best Practices Prize in improving the living environment, awarded by the Federal Ministry of Works and the UN Habitat Group; Y2000 Best Computerized Government in Nigeria Award by the Computer Association of Nigeria.
Asiwaju Bola Ahmed Tinubu was conferred with the Honorary Doctor of Law Degree by the Abia State University in recognition of his immense contribution to democracy, good governance and development of Nigeria. He is the proud recipient of numerous other chieftaincy titles and a patron of many professional and social organizations.
As an astute political strategist, Asiwaju Bola Ahmed Tinubu survived the massive incursion of the ruling People's Democratic Party (PDP) to the South Western States of Nigeria as the lone re-elected Governor of the Alliance for Democracy (AD). This led him on a regular collision course with the PDP-controlled Federal Government, especially on his creation of additional 37 Local Council Development Areas for Lagos States.
A Supreme Court judgment in his favour stated that the President Olusegun Obasanjo's Federal Government should release the seized statutory allocation of the Lagos State Local Government funds.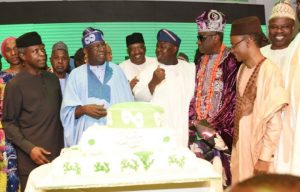 Asiwaju Bola Ahmed Tinubu was actively involved in the creation of the Action Congress (AC) political party as recourse to the decimated Alliance for Democracy (AD). Rallying like minds across the country, he sold sound ideals and programmes on this fresh and new political platform. Within a few months, he transformed this new party as the credible opposition to the PDP in the country.
His political career began in 1992, when he was elected to the Nigerian Senate representing the Lagos West constituency in the short-lived Nigerian Third Republic. After the results of the 12 June 1993 presidential elections were annulled, Tinubu became a founding member of the pro-democracy National Democratic Coalition (NADECO), which mobilized support for the restoration of democracy and recognition of the 12 June results. He went into exile in 1994 and returned to the country in 1998 after the death of military dictator Sani Abacha, which ushered in a transition to civilian rule.
In the run-up to the 1999 elections, Bola Tinubu was a protégé of Alliance for Democracy (AD) leaders Abraham Adesanya and Ayo Adebanjo. He won the AD primaries for the Lagos State gubernatorial elections in competition with Funsho Williams and Wahab Dosunmu, a former Minister of Works and Housing.

In April 1999, he stood for the position of Executive Governor of Lagos State on the AD ticket and was elected.
When he assumed office in May 1999, Bola Ahmed Tinubu promised 10,000 housing units for the poor. During his eight-year period of office, he made large investments in education in the state. He also initiated new road construction, required to meet the needs of the fast-growing population of the state.
Asiwaju Tinubu, alongside a new deputy governor, Femi Pedro, won re-election to office as Governor in April 2003. All other states in the South West fell to the People's Democratic Party.
He was involved in a struggle with the Federal government over whether Lagos State had the right to create new Local Council Development Areas (LCDAs) to meet the needs of its large population.
The controversy led to the Federal government seizing funds meant for local councils in the state. During the later part of his term in office, he was engaged in continuous clashes with PDP powers such as Adeseye Ogunlewe, a former Lagos State senator who became minister of works, and Bode George, southwest chairman of the PDP.
Relations between Bola Tinubu and deputy governor Femi Pedro became increasingly tense after Pedro declared his intention to run for the gubernatorial elections. Femi Pedro competed to become the AC candidate for governor in the 2007 elections, but withdrew his name on the eve of the party nomination.

He defected to the Labour Party while still keeping his position as deputy governor. Tinubu's tenure as Lagos State Governor ended on 29 May 2007 when Babatunde Fashola of the Action Congress took office. Fashola had been Chief of Staff to Bola Tinubu.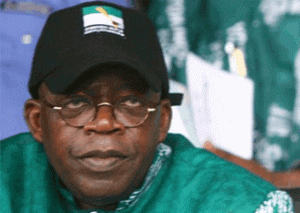 Today, the great legacy of Asiwaju Bola Ahmed Tinubu is built on by his successor, Mr. Babatunde Raji Fashola (SAN), who served as his Chief of Staff. Continuation of Tinubu's outstanding policies makes the present administration of Lagos State an exceptional and the foremost Government in Nigeria.
The Jagaban Borgu still marches on in the political landscape of the country, with a resolve to take on any challenging task with positive public to reduce poverty among his people.
Following the victory by the People's Democratic Party (PDP) in the April 2007 elections, Bola Tinubu was active in negotiations to bring together the fragmented opposition parties into a "mega-party" capable of challenging the PDP in 2011. In July 2009, he called for implementation of electoral reforms spelled out in the Uwais report to ensure that the 2011 elections would be as free and fair as the elections of 1993 had been.
In December 2009 there were reports that Babatunde Fashola and Bola Tinubu had fallen out over the issue of whether Fashola should run for reelection in 2011, with Tinubu said to be supporting the Commissioner for Environment, Muiz Banire.
Tinubu formed a new party alongside Muhammadu Buhari a party which was named All Progressive congress (APC). The goal was to build a stronger party to get rid of the ruling party PDP.
In 2015 Tinubu's target became a success as APC won the presidential elections and most of the polls across the country.
Tinubu is married to Oluremi Tinubu, the current Senator of central Lagos State. His youngest daughter, Abibat Tinubu, graduated from a Music College in Boston, Massachusetts, US in 2013.
In another development, the All Progressives Congress (APC) stalwart Asiwaju Bola Ahmed Tinubu has vehemently denied reports that he was planning to run for the presidency of Nigeria.
In a rebuttal by his media office, Tinubu said he will never stand in any contest against President Muhammadu Buhari or support anyone against him.
The statement titled: "Response to THISDAY false news report" added that the former Lagos State governor was neither planning a team nor holding consultations with the intention of planning any presidential campaign.
Here is the statement in full: "The front page story of the February 28 THISDAY newspaper alleging that Asiwaju Bola Tinubu is actively planning a presidential run is an example of bad fiction masquerading as professional journalism.
"The story is a manufactured tale weaved by its authors to try to create division where there is none.
"Those who wrote this fantasy seek to place Asiwaju Tinubu at odds with President Buhari. Writing such a baseless report is a very foul and wrong thing to do.
"The story carried the headline 'Tinubu Prepares for Presidential Run, Dumps PDP, Mega Party Alliance'. The headline is remarkable in the fact that every bit of it is utterly wrong.
"First, Asiwaju Tinubu is not gearing up for a presidential run. So there will not be any doubt about this core matter; we shall state Tinubu's position clearly and unequivocally so that even Thisday reporters cannot misinterpret his position.
"As long as that patriotic and committed man named Muhammadu Buhari holds and seeks to hold the mantle as our president, then Asiwaju Tinubu stands behind him in unwavering support and confidence.
"Asiwaju Tinubu remains faithful to the mission of progressive reform and change that President Buhari, he and the All Progressives Congress (APC) have started.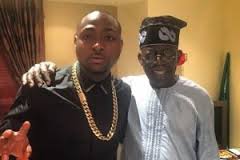 "Tinubu was instrumental in the formation and success of the APC. His toil and efforts helped establish this government. He is not one to tear down something he laboured so dutifully to build.
"Instead of trying to convey the truth, the THISDAY report opted to gain false sensation by completely mocking the tenor of the brief banter Asiwaju Tinubu had with journalists at the inauguration of Ondo State Governor Oluwarotimi Akeredolu.
When asked about future political office, Asiwaju said he could not discount that possibility if the nation called upon him for such service, provided, he emphasised, that all political conditions were appropriate; particularly the office in question would have to be vacant, even if it's local government chairmanship. In our political lexicon, this means the office is not held by a member of the APC in good standing. We all know this.
"Moreover, if you really listen to his words, Asiwaju did not mention any office or any time-frame. The conditions he mentioned may not become ripe for years to come and they might not pertain to the presidency. In effect, all Asiwaju said was the position that any political figure would hold.

"As a politician, he cannot preclude the possibility of running for office in the future because no man knows what the future will hold. To translate this general statement of political reality into a tale that he is actively preparing for a 2019 presidential run is reckless in the extreme.
"For that newspaper's reporters to have engaged in this great leap of counterfeit logic means they purposefully bowed to the pressure to create false headlines instead of following the ethics of their craft to follow the truth even if the truth is more pedestrian and less volatile than what the reporters would have liked to hear. "They have turned themselves into newsmakers instead of remaining true to their calling of being neutral conveyors of events.
"Asiwaju Tinubu has not held any planning meetings for any such presidential campaign and is not contemplating any such meetings. He has no present list of possible running mates because he has no present intention of running.
"The headline also libels Asiwaju by asserting he was going to join the PDP. This is as shameless as a lie can be. Asiwaju is acknowledged to be the intellectual father and the driving force behind the APC.
"It makes no sense that he would abandon the party that he worked hard to build in order to enter the dilapidated building the PDP has become. Asiwaju worked for over 16 years to break the PDP yoke on the nation.
"After breaking that yoke, it is not in his nature to voluntarily place it back on our necks. Anyone who has followed his career, even his staunchest critics, knows Asiwaju for his partisan consistency. He is not a party hopper. He is loyal and sticks with the party to which he belongs.

"After fighting for so many years to elevate his party to the position of national leadership, he would not give that away in order to join with those who blame him for their currently bleak political circumstance.
"We understand all too well the genesis of this false news report. For their own reasons, THISDAY has joined with those who seek to put Asiwaju Tinubu at odds with our President.
"This scam will fail. Asiwaju supports and stands behind President Buhari.