.. Asiwaju Olagbaye Describes Event Discovery Of A New Beginning
By AbuStar Hamed
IKEJA-LAGOS – The Governors of Ogun and Lagos States, Prince Dapo Abiodun and Mr. Babajide Sanwo-Olu, respectively, have commended traditional rulers for upholding cultural heritage in their respective domains.
The duo of Abiodun and Sanwo-Olu jointly stated this on Sunday, December 11, 2022 at the maiden edition of Awori Day Cultural Festival 2022 which took place at the Police College Ground, Ikeja, Lagos SAssociations of Nigeria (AWAN).
Ogun governor was represented by his Deputy, Engr Naimot Salako- Oyedele at the event.
The governors enjoined AWAN to make Awori Day a yearly event, and they promised to continue to support the institution of culture and tradition in their respective states.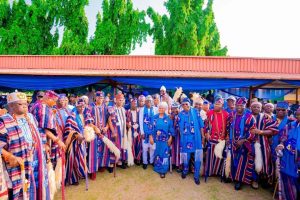 Earlier in his welcome address at the event, the National President of Awori Welfare Association of Nigeria (AWAN), Asiwaju Muhammed Ajibola Alamu Olagbaye described the maiden edition of Awori Day 2022 as a dream comes true which marked a new beginning in the life of Awori people and the generation yet unborn.
According to Asiwaju Olagbaye, the event "represents our discovery; a new beginning; a paradigm shifts in emotional, psychological, social and moral restitution going forward.
"In this, our being would further manifest for greater tomorrow in stronger affinity.
"The event of today was not conceived just this year. It had long been conceived for over 20 years, but could not be delivered due to one obstacle or the other.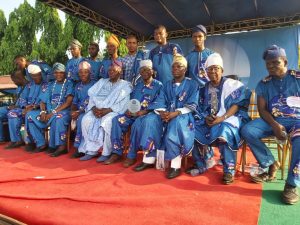 "This is the time that the Lord has chosen. It is marvelous in our eyes."
The National President of AWAN also paid a glowing tribute to the Awori fathers of yesteryears in Lagos, Ogun States and all parts of Aworiland for their efforts and doggedness for not Awori nation be suppressed, rather make sure Awori voice be heard.
Asiwaju Olagbaye passionately paid tribute to the late Chief Fagbenro Beyioku, late Justice Charles Bada, late Justice Ishola Oluwa, late M. O. Kosoko, late Senator Abayomi Durosinmi, late Pa Karimu Laka a.k.a. Orelope, late Pa J. A. Odeyale, late Chief Ebenezer A. Olurinde Gbeleyi, late M. O. Ogundipe, late Pa Sakariyau Opeifa among others.
He however commended the unflinching efforts of the living legends Aworis which includes Asiwaju (Senator) S.A. Otegbola, the Traditional Rulers in Lagos and Ogun States.
Asiwaju Olagbaye specifically recognised an Awori son, in person of Prince Adetunji Femi Fadina, the Chairman, Go Awori Tourism for giving AWAN the concept and use of his tourism experience to see to the actualisation of the Awori Day of their dream.
The carnival-like event was rounded-off with presentation of awards to heroes of Aworiland.
Among the recipients of awards are the Olu Gbeleyi-Onigbesa Family of Oshodi & Igbesa that received Glass Plaque of Awori Patriot Award on behalf of the Family of Late Hon. (Chief) Ebenezer Adetokunbo Olurinde Gbeleyi in recognition of their contributions to the upliftment of AWAN and the general welfare of Aworis in Lagos and Ogun States.
Other awardees included the family of late Pa Karimu Laka a.k.a. Orelope, family of late Prof. Lateef Salako and family of late Pa Sakariyau Opeifa.
Lifetime Awards goes to Her Excellency, Mrs. Adejoke Orelope Adefulire, the Senior Special Assistant to President on Sustainable Development Goals (SDGS); Asiwaju Muhammed Olagbaye and Asiwaju Olawale Cole.
In his remarks on the First Awori Day Cultural Festival, the Chairman, Governing Board, Digital Bridge Institute (DBI) Rt. Hon. Olusegun Bolanle Gbeleyi, who is also the Arole-Otunba of Igbesaland, and former Deputy Speaker Ogun State House of Assembly said, "I will start by personally commending our dear Patriotic Prince Adetunji Fadina who conceived the idea of the event, and our fathers, the leadership of the Awori Welfare Association of Nigeria (AWAN) under the able leadership of Asiwaju Mohammed Ajibola Alamu Olagbaye for adopting the concept for actualisation.
"Of course, we must appreciate our financial sponsors from the private and public sectors. We also appreciate and thank notable individuals, most especially the Lagos State Government for believing in the Festival which really showcased our rich culture, heritage and traditions through poetry, dance and music.
"I was really elated to see our Royal Fathers coming together as one united body. They all gave their full Royal blessings and actively participated, making the occasion great with all Awori towns being fully represented in the colourful branded "Aso Ebi" and T-shirts for the Awori Day Cultural Festival.
"It was truly the first of it's kind to unify the Aworis of Lagos & Ogun States in Nigeria and in the Diaspora."
Gbeleyi stated further, "Above all, I sincerely thank the organisers for the Posthumous Award given to my late Father, Pa (Chief) Hon. Ebenezer Adetokunbo Olurinde Gbeleyi and his family.
"No doubt, our family, will be even more motivated in our service to humanity in general and uplifting Aworis in particular around the globe.
"Finally, I join other Aworis both home and abroad in thanking the Almighty God for His grace on the outstanding success of the 1st Awori Day Cultural Festival held on Sunday, 11th December, 2022.
"We pray that Almighty God will give us the grace to witness the following one, come next year, Amen. God bless us all!"
The long awaited and expected unifying event of Aworis from Lagos, Ogun and across the globe paraded scores of Traditional Rulers, Awori Community Leaders, sons, daughters and friends of Awori who gathered in their hundred of thousands to witnessed arrays of cultural display from different Awori communities.
The event was no doubt unique, glamorous and funfair from the start to the end as it showcased socio-cultural heritage of Awori people.
Both the young and old Aworis appeared in custormised attire which symbolized unity that's existsing amongst them.
Also, the Royal Fathers in attendant were in the same Aso-Oke attire with smiles on thier faces while indicated their happiness for the day.
Decoration of the venue was also second to none as Technical, Lights, Sound and stage was handled by a renowned multimedia company, ZMIRAGE MULTIMEDIA NIG. LTD.
The audience we're thrilled by Gelede, Egungun, Aje, Woro, Efe, Ewi among cultural troupes.