By AbuSatar Hamed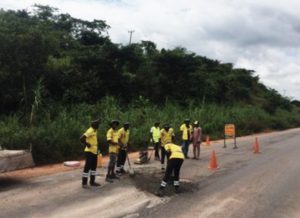 ABEOKUTA: The Consultant to the Governor on Public Works Arc. Gbenga Akintola has assured that every road network that is strategic within the nooks and crannies of Ogun state would be maintained by the state Public Works Agency ( OGPWA) as part of the measure of keeping in line with the vision of the Governor to make life better for the citizenry.
According to a release e-signed and made available to StarTrend Int'l magazine & www.startrendinternational.com by Babajide Jokotagba, the Information Officer for OGPWA, Akintola stated this recently when he featured in a weekly programme anchored by the Traffic Compliance and Enforcement Corps, tagged ' TRACE Half Hour' where he said that, "any road network whether local, state or federal roads that are of common interest and important to the lives of the residents of the state would not be abadoned, noting that continuous engagement with all agencies of government
saddled with the responsibility of managing road infrastructure has been energised to foster development and to equally avoid duplication of efforts."
His words, "We are poised to maintain any road that is important to the livelihood of our people, and to make this easier for us, we are engaging agencies of government in charge of road reabilitation, like Federal Roads Maintenance Agency (FERMA) and Federal Ministry of Works to alert them whenever their is circumstantial reasons for us to embark on repairs of roads that fall within their coverage.
"Not only that, we also synergized with TRACE in the area of traffic management whenever repairs are ongoing on our roads especially during the day.
The road Consultant therefore charged the general public on what they need to do to ensure that the network of roads across the state have a longer lifespan, noting that habits of cooking on the road, siting of car wash facilities along the road without proper drains, cutting of the road and dumping of refuse in the drainages must be discouraged as they tend to put the integrity of the road at risk, just
as he advised the motoring public to adhere to basic traffic rules and desist from pouring petroleum products on the asphalt surface of the road.
Arc. Akintola concluded by re-assuring the public that better times await the residents of the state if everyone see road infrastructure as a collective heritage which must be collectively managed for the posterity and the development of Ogun state.