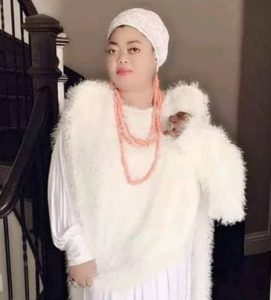 USA: Alaafin of Oyo, Oba Lamidi Adeyemi has continued to receive knocks since he installed the Fuji star, King Wasiu Ayinde Marshal as the Maiyegun of Yorubaland, with an instruction not to prostrate for any monarch in Yorubaland.
The US-based, Erelu Mabel Tinuade Onaneye, while reacting to the title said that it was wrong for the Alaafin to have made Wasiu the Maiyegun of Yorubaland, noting that the traditional ruler's suzerainty does not extend beyond his Oyo domain.
Her words, "One day, he will appoint a Hausa or Igbo to be the leader of Yoruba.
"He thought he want to spite or bring the authority of the Ooni of Ife down, but Baba is making a great mistake.
"In my entire life, I have never heard about any king as Alaafin of Yorubaland. Oba Lamidi Olayiwola Adeyemi, when did you become Alaafin of Yorubaland?
"What is uniting and dividing us in Yorubaland? I have answers to this: supremacy, hate, jealousy to mention a few.
"Yoruba land belongs to all Omo Kaaro Oojire.
'The Obas are just caretakers. If you do it well, the history shall not perish.
"But if you do it in other way round, your name shall remain in the history book.
"Enough of lies and deceits from our traditional rulers".
Recall, the Fuji crooner was on Monday, January 6, 2020 installed with the controversial title while several prominent Yoruba monarcs in the South West tactically shunned the ceremony.