ABEOKUTA – The Founder of Wessy Tailoring & Vocational Institute, Otunba Wasiu Jayeola Taiwo has urged the Federal government, to invest in technical education with a view to promote entrepreneurship in the country.
       Otunba Taiwo made this declaration at a public lecture and award ceremony organised by INFOLITE MEDIA, held in Abeokuta, the Ogun state capital on Friday, March 26, 2021.
       Wessy Creation as he's fondly called is one of the leading fashion designing outfits in Nigeria with its headquarters in Ogun State and having branches in some South West states.
       The B'Obato of Jogaland who's also the Chairman/Chief Executive of Continental Suites & Hotel while contributing to the theme of the programme,"Role of Youth in Politics." said entrepreneurship would go a long way in contributing immensely to the economic development of the nation.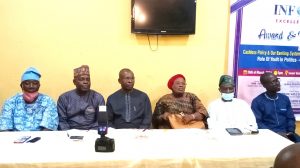 He further stressed that wealth of every nation is concealed in entrepreneurship, adding that if the Federal government could look in that direction, the narrative of economic melt down would be a thing of the past.
        Otunba Taiwo lamented the rate of unemployment in the country and appealed to all young Nigerians not to depend on white collar jobs, but look inward and tap the advantage in entrepreneurship to get going in life.
        He also added, "the situation the country found itself is regrettable and if entrepreneurship is not considered, poverty rate would increase."
        The Chicken Continental boss also charged the Nigerian youths to acquire skills in ICT in order to create wealth for themselves.
       He hinted that the 21st century generation would soon go digital totally, adding that anyone who's not ICT compliant would be left behind.