ABEOKUTA: The State Chairman of National Youth Council of Nigeria, Ogun State Chapter, His Youthfulness, Com. Abdul-Jabar Ayelaagbe has appealed to youths of the State to sustain the good lifestyle witnessed in the month of Ramadan.
According to a press release e-signed and made available to StarTrend Int'l magazine & www.startrendinternational.com by Com. Adebare Ariyibi; State PRO, NYCN, Ogun State Chapter, Ayelaagbe, in his Eid-el-Fitr message to the youths, congratulated all Muslim Faithful for the successful completion ofRamadan as expected in the holy month.
He commended the youths for the peaceful conduct in their way of life, the improved act of charity amidst the challenges of Covid-19, and the great display of religious tolerance.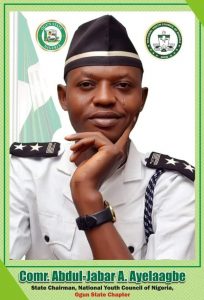 His words, "I join the rest of the world to celebrate this year's Eid-el-Fitr. God willingly, this year's Ramadan has been observed in a manner we've never foreseen. Due to the global pandemic ravaging the world, there were lots of changes to the known tradition of Ramadan. I congratulate all Muslim Faithful on its completion.
"Regardless of the unpleasant experience we've observed during this year's Ramadan, I am confident that God did not forsake us. I use this opportunity to pray to the Almighty to heal the world; because nothing else can pull us through, except the grace of God.
"I hereby charge us all, as youths, to continue to live uprightly according to the teachings of Ramadan. The peace and religious tolerance that was witnessed during the holy month of Ramadan is worthy of commendation, and we must endeavor to sustain our act of magnanimity to our fellow brothers and sister".