By Seyifunmi Odunuga
IBADAN – Rev. Kehinde Edward Alabi of Molete Baptist Church, Challenge, Idi-Odo, Ibadan has advised couples to be tolerant of each other, be focused and should not allow intruders into their marriage, "because the Bible says, "what God has join together let no man put asunder."
Rev. Kehinde Edward Alabi stated this on Saturday, April 17, 2021 during the solemnisation of the holy matrimony between former Miss Ifeoluwa Oluwayemi and Mr. Ayotomiwa Ogunsua.
The clergyman urged the couple to see themselves as one entity and should always tolerate one another, since they are coming together from different backgrounds.
Members of the church's choir sarted the service with the song, "To God be the Glory". As the congregation took the last stanza, the groom in a humble manner walked down the aisle, greeted his father-in-law whom in return handed over the bride to him and walked the bride in a glamorous manner to her seat.
Rev. Kehinde Alabi, who cladded in a white episcopal gown whispered to the bride and groom while the couple in return gave a happy smile.
Thereafter, the exchange of consent for marriage started as the priest asked the congregation, "who gives Ifeoluwa Olawumi to be married to Ayotomiwa Yinka?" The Father and Mother-in-law, Deacon and Mrs Oluwayemi majestically came out and handed the bride unto the priest who then took the bride by the hand and gave her to the groom.
It was a day of happy union and new beginning for the families of Deacon and Mrs Deji Funmi Oluwayemi and Mr. and Mrs Agboola Oluremi Ogunsua as they expressed tgeir happiness n the occasion.
The Reception which was chaired by Barr. Kunle Faokanla followed immediately at Kakanfo Inn, Joyce B Road, Ibadan and the opening prayer sawas id by Pastor Seyi Kayode.
Barr. Faokanla advised the couple to trust themselves, not allow any intruder in their relationship, love themselves, do everything together and live in peace.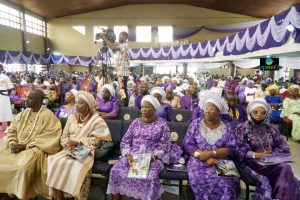 The cutting of the cake was supervised by the Master of Ceremony, Rotimi Johnson.
Dignitaries present at the occasion include Dapo Rotifa, Dr. & Mrs. Femi Oke, Hon. Ismaila Kolawole, (Federal House of Rep) Mr. & Mrs. Femi Oyewole, Justice S. A. Akinleye, Vice President Customary Court of Appeal, Proprietress Ajibike Obiyinka and Oranmiyan of Okoland,Oba Solomon Akinola.
Others are Rev. Dr. Edward Kehinde Alabi (Molete Baptist Church, Ibadan), Papa T., Supreme Evang. Seyi Kayode (CCC Oke-Ayo), Chief Ajibade, Babakeke of Okoland – Bro. Segun Adekunle, Bro. Niyi Alabi, Rev. Bayo Mabawonku, Pastor Adika, Rev. Adeyemo, Pastor Niilola, Evang. Sanyaolu of Wite and Elder & Captain Babalola Rtd.
The MC, Rotim Johnson, Taiwo Olusanya a.k.a. Obama and Back 2 Back MC did wonderfully well while the musician Yinka James a.k.a. Adonai, dazzled guests at the event.
The event was covered and ushered by Apreel 1 Events Management while T.V. Event was packaged by Zaphyrs.