The GMD/CEO of United Bank for Africa (UBA), Kennedy Uzoka, has said that the Bank, upon realizing that the future of banking would transcend baseline transactions and demand more than human efforts to satisfy customers, it resorted to the use of technology which led to the introduction of its chatbot, Leo, in 2018.
Uzoka, who spoke at the programme marking Leo's debut on iOS platform for people using Apple products, noted that the UBA was poised to accommodate future customers with the use of advanced tech solutions in the banking sector.
According to him, the Bank, at a point, faced the question of how to better serve its current over 18 million account holders in its 20 African countries of operation and also the prospective one, saying, "United Bank for Africa (UBA) has channeled its innovation in banking strategies into transforming banking experience to lifestyle for its customers.
"We operate in 20 African countries with over 18 million customers and with our aspiration, these numbers are going to grow quite rapidly and we know that serving this high number of customers will require a lot of resources.
"There are usually two approaches to doing this: it is either you go through man, or machine. Man will always have errors, but machines, in the past, of course, would have error, but with artificial intelligence (AI), the error rate is tending towards zero.
"We believe that for us, since serving customers is at the heart of our strategy, we must go in machine direction. And that is why we have deployed artificial intelligence to serve our customer."
Uzoka described Leo as unprecedented in Africa's banking history, saying that one year after launch on Facebook and whatsApp messengers, Leo has recorded over 195 million transaction volume on the platform.
He further said that Leo's launch marked the second phase of the banks deployment of artificial intelligent infrastructure for banking.
His words, "With the first phase, Leo is able to do the basic things our customers expect from us, i.e. make payments, transfer money to people, utility bill, schedule their payment, airtime top up, etc.
"That is so baseline services and that is why we decided that that is the first thing Leo needed to address and based on the strong Artificial Intelligence, we have addressed it.
"The second phase now is taking it beyond baseline traditional banking requests to now make it a lifestyle, especially, given the demography that we are banking today.
"People between 18-34 years comprise 74 per cent of our customer base today. These are people who are not finding it very convenient going to bank every time. These are people who want to bank anytime, anywhere," he said.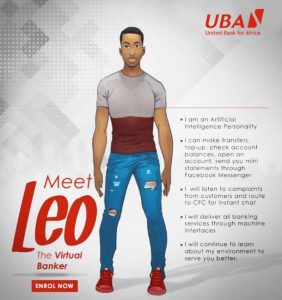 In her own speech at the event, Dupe Olusola, group head, marketing, UBA Plc, said the bank was always looking for new ways to serve its customers easily and on time; we are therefore thrilled to support Apple Business Chat, which gives us a powerful and engaging connection with our customers.
"Most of our customers prefer iOS, and we always want to exceed their expectations when they experience UBA. Apple Business Chat makes communicating with us as easy as messaging a friend, so we expect it will quickly become our customers' preferred customer service channel," she added.