…Promises Synergy With NYSC To Improve On Youth Corps Priority
BY ABUSATAR HAMED
LAGOS – The Cornel Media Consult in conjunction with Cornel Entertainment decorated the National Youth Service Corps (NYSC), Lagos State Coordinator, Mrs Yetunde Abimbola Baderinwa, with the 2022 CMC Africa Most  Outstanding Award for her Exceptional performance in National Assignment and her Managerial Skills within the service. 
According to a release e-signed and made available to StarTrend Int'l Magazine and online – www.startrendinternational.com by CMC Gladiators Media Unit, Mrs. Baderinwa was also inducted as Matron of CMC Gladiators and decorated with a Peace Medal.
Presenting the Award on behalf of the Civil Society Group, Amb.Cornell  Udofia who is the President and Founder of the organization stated that, they arrived at the decision to honour and celebrate her after a painstaking research on her activities in NYSC and in the course of their findings the group discovered her superb performances, most especially her patriotic zeal and leadership conduct which led to the successful conduct of the Gubernatorial Election in Anambra state that  produced Professor Charles Soludo as the Executive Governor.
The head of CMC Gladiators extolled the virtues of the Lagos State NYSC coordinator, Mrs. Yetunde Baderinwa, while he described her  as an uncommon Transformer, Achiever, A Great Daughter of Zion, A Pacesetter, An Amazon in Academia, A Unifier and  Godly woman that CMC is glad to be associated with.
Obong Cornel Udofia told the Award recipient and members of her management team present during the presentation of the  Award ceremony that CMC Gladiators is an organization that identifies nature and celebrates talents.
He further disclosed that some renowned Nigerian, Musicians, Artistes, ICT Gurus, Top Publishers and Actors  have passed through their mentorship and Media exposure to become stars and well celebrated in their chosen professions.
Amb. Udofia said CMC Gladiators, as a Media and Entertainment outfit also celebrate men and women in both the private and public sectors with proven  records of  outstanding performances, integrity and Great Achievers which he noted such people are usually crowned  with  Special Recognitions, with a view to spur them to greater heights and motivate others to work hard so as to achieve success.
He went further to disclose that CMC has empowered so many youths with identifiable talents as well as supporting Entrepreneurs, amongst others, saying that, this is the reason members of the organization are fully engaged in different human endeavours.
In her acceptance speech, Mrs Baderinwa stated that she is overwhelmed by the honour and recognition that CMC Gladiators has accorded her.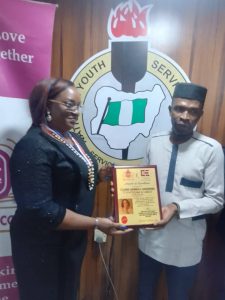 She noted that she is enthusiastic with what CMC stands for, which according to her, is in tangent with the vision  of NYSC which she stated is to train our Youth Corps members that passed through them during their  service years to acquire Entrepreneurial skills and to translate their energy into productive ventures for the betterment of the society and the country which Lagos state is integral part and parcel of it.
She commended the Youth corps members for the innovations that they have brought to bear in the country, saying that if such are  properly harnessed it will help transform the nation's technological and Economic Development.
Mrs. Baderinwa promised to work in synergy  with CMC Gladiators to change the mindset of the Youth Corps members on the need to nurture and develop their talents  to tangible gains and for them to believe in Nigeria as she asked CMC to support Nigerian youth corps with superior ideas that will help them to become positive changed agents in the society.
According to the citation of the Award recipient and which was read by Group Media Relations officer Queen Eve Iyire  described Mrs Yetunde Abimbola Baderinwa as a Cosmopolitan woman with  cross Cultural Environment and with  vast experience about the country, having  spent her early life in the northern part of Nigeria.
She passed through her primary,  secondary and tertiary Education and have attended various higher institutions, including the Prestigious University of Lagos where she obtained a Master's Degree in Both Public Administration (MPA)  and Industrial Labor Relations (MILR) aside other Certificates in Administration and Human Resource Management to her credit.
Mrs. Baderinwa joined the Public Service in 1994 and began her career with the National Youth Service Corps and rose to occupy Administrative and Management positions in her public service career.
She has served in Kwara, Oyo States and the National Directorate Headquarters of NYSC. She is the 23rd  NYSC State Coordinator in Lagos, the Center of Excellence.
According to some Management staff who were present during the award ceremony, they described her as a  widely travelled personality which, according to them,  has influenced her managerial skills which has engendered a  conducive working relationship amongst Staff of NYSC in Lagos.
This was Corroborated by Mrs. Ehimwema Itohan Asst. Director, CIM, Mrs Aladesoun Omolola, Head, Press & Public Relations, Mrs. Uzoamaka Ogunrayemi, Asst. Director, Human Resources, and Mr. Thomas Akhayagboke, Asst. Director, Finance & Account who further stated that Mrs. Baderinwa's regime has witnessed innovations and improved services to the Youth corps members who undertake their National Assignment in Lagos.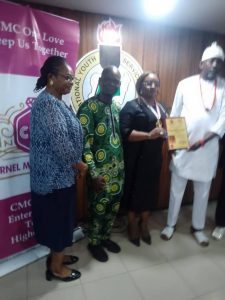 They described the Award as a further Testimony of her Excellent performance in Lagos which they believe will spotlight  Lagos as the most friendly NYSC State in Nigeria.
It is interesting to note that,the National Youth Service Corps (NYSC) Scheme was established in 1973 by the then Head of States, Gen. Yakubu  Gowon for fresh Graduates from the Nigerian Universities Polytechnics and  Colleges of Education to undertake a one year compulsory service to the nation in States other than their state of origin which is primarily to foster national unity and integration.
Over the years, the scheme has been able to mobilize and groom graduate youths  to achieve national unity, sustainable development and equally prepare them for the challenges of leadership.
Mrs Yetunde Baderinwa, has been widely acknowledged  as one of the Management staff  who have worked to help drive this mission statement of NYSC over the years.