By Rufai Abiola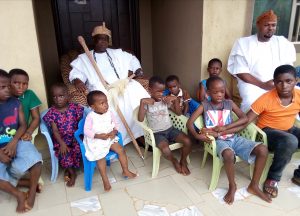 ILARO-YEWA: The Aboro of Iboroland, Oba Daniel Abayomi Salako has marked his 60th birthday not only in a low key, but at Future Leaders Orphanage, situated at Orita Pahayi area of Ilaro, headquarters of Ogun West where he dine and wine with the orphans and their guardians.
Oba Salako speaking with the orphans and guests at the event on Thursday, September 19, 2019, said that he has promised God that when he clock 60th on earth, he would not invite any influential members of the society, but instead, he would celebrate it with the less-priviledge people, especially the orphans.
His words: "I am here today to appreciate God for all He has done for me and these children for being alive today. Today is my 60th birthday and I had promised God that I will not organize any big party to that effect instead, I will celebrate it with a visit to orphanage to eat and wine with them.
"From what I have seen so far, the staff of this orphanage are trying, but they can still do better.
"I thank God for giving me the opportunity to witnessed today and for me to fulfill my promise of marking my 60th birthday with these beautiful children; and I want to tell you that I am going to be the Royal Father of this orphanage home".
The royal father called on well meaning individuals and groups to at all times assist orphanage children and the needy in the society, while assuring that he would from time to time visit the orphanage and others within the area.
Appreciating the monarch for his good gesture, the Manager of the orphanage, Mrs. Oluwaremilekun Eniken pointed out that, "the management of the home was preparing to go to the market to get foodstuff for the children in preparation for their resumption to school, stating that such would not be needed again as Oba Salako has brought them enough foods, good enough to take care of the orphanage food needs for a while."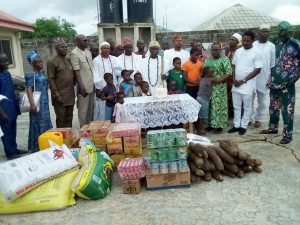 Mrs. Eniken called on government and individuals to come to their aids, especially in the area of electricity and mobility, saying that the only vehicle of the orphanage was no longer working effectively and that the home need urgent replacement of its vehicle.
She pointed out that some of the children at the orphanage lost their parents to motor accidents, while some were brought to the home by some good Samaritans who picked them from where they were dumped, either on the refuse dump, in the gutter or by the road side.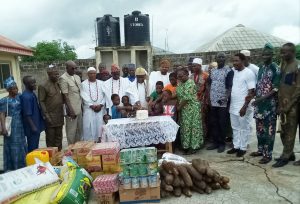 The woman in charge of the home enjoined parents not to neglect their children as a result of the increasing poverty in the country, while advising that they should give birth to only number of children that they could cater for.
Amongst Oba Salako's entourage are some of his subjects, Mr Segun Babarinde, Mr. Abiodun Kolawole Daniel, Mr. Akin Akindele, Publisher/Editor-in-Chief, Paramount magazine, and Elhadj AbuSatar Hamed, Publisher/Editor-in-Chief, StarTrend Int'l magazine & www.star trend international.com among a host of others.