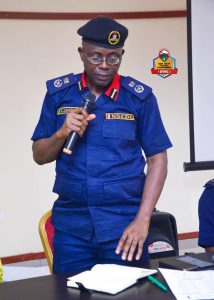 ABEOKUTA: The country, and indeed the world, had been thrown into pandemonium over the COVID-19 outbreak which have been ravaging the entire globe with few nations being exempted if any however, this has necessitated an enhanced relationship among security agencies in Nigeria.
According to a press release e-signed and made available to StarTrend Int'l magazine & www.startrendinternational.com by Dyke Ogbonnaya, State Public Relations Executive, for: State Commandant, the Command, in its last management briefing conducted through an e-Platform, gave a stern order to its personnel to work in tandem with all security operatives and that such cooperation should be built on, for future challenges as emergencies could occur anytime.
Having surveyed through the activities of the personnel across the State, in the last one week, the command expresses satisfaction in the great and unprecedented cooperation between and among security agencies with minor skirmishes though, which could be managed overtime.
In his statement, Alhaji Hameed Abodunrin, the State Commandant, Nigeria Security and Civil Defence Corps, Ogun State Command Headquarters, Abeokuta, also added that "This is a time for selflessness, humaneness, love and good neighbourliness among everyone particularly, the security personnel, as this would make the whole essence of their duty to be felt by the populace in the State".
He went further, "All the constitutional ethics of a security personnel should be observed during this period which include but not limited to: protection of lives and property, prevention of jungle justice, ensuring enforcement of lawful order, surveillance and intelligence gathering, respect for government laws and order and keeping and maintaining peace at all times".
"Even as a security agent, one should be a frontliner in obeying government orders and indeed, all laws of the State as the aphorism goes "Laws are no respecter of persons".
To this end, he warned heads of all the Corps formations across the State to instil, as a matter of urgency, the expected professionalism in their personnel which is a critical mark expected of any uniform agent across the globe, saying, " These tenets of professionalism are glaring to all and is not just a new training for this sort of release. They are global tents and laws expected of an agent.
"Perhaps for the benefit of the public, a true security agent is not globally allowed in principle to demand or accept gratifications from the public under any pretest among others and this must be a watchword for all personnel of the Corps at all times."
Abodunrin also advises every christian to imbibe the spirit of Christ in all they do even after the Easter celebration and as Christ is an embodiment of love, humility, respect for law and order and a professional in every way during His sojourn on earth so it should reflect in every life not only during this festivities, but evertime.