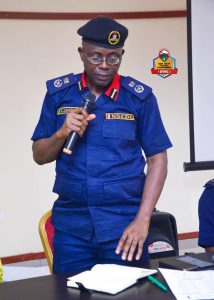 ABEOKUTA: Consequent upon complaints flying around the State as regards robbery attacks, violence, indecent acts and other criminal activities, the Service Commanders proceeded on a tour of those flashpoints across the State to have a firsthand surveillance and intelligence of the situation on Tuesday,April 14, 2020.
According to a press release e-signed and made available to StarTrend Int'l magazine & www.startrendinternational.com by Dyke Ogbonnaya, State Public Relations Executive, for: State Commandant, this team went from Abeokuta, Ifo, Sango, Alakuko, Akute, Agbado, Ajuwon, Ojodu, Berger among other notable places addressing the community members on the need to show high sense of decency, humaneness and togetherness before, during and after the lockdown.
This team, which was primarily led by the State Commissioner of Police, Mr. Kenneth Ebrimson, had other service commanders like: the Brigade Commander, 35 Artillery Brigade, Alamala, Brigadier General Amadasun; the State Director, Department of State Services, Ogun State, Mr. Tuskar;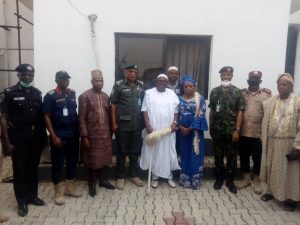 the State Commandant, Nigeria Security and Civil Defence Corps, Ogun State Command Headquarters, Abeokuta, Alhaji Hameed Abodunrin; the Sector Commander, Federal Road Safety Corps, Ogun State Command, Mr. Clement Oladele; and a host of others.
During this statewide visit, the Commissioner of Police, warned the people to live harmoniously among themselves and avoid tagging or labelling their communities as irresponsible, thereby laying a poor foundation and bad precedence for tomorrow.
In the same vein, we stopped by the palaces of three key royal fathers around the communities visited. The Alagbado of Agbado, His Royal Highness, Oba Adedayo Shyllon Sogbulu; the Olojodu of Ojodu, His Royal Highness, Oba Samuel Shobowale Olusegun Benson and the Alajuwon of Ajuwon and his chiefs in council.
The visitation-cum-surveillance which lasted for almost eleven hours was able to address so many anomalies and annoyance of the people in those communities especially those ones who are aggrieved by some certain issues related to the COVID-19 pandemic and lockdown programme and other sundry issues to which the team calmed and spoke heart-to-heart with the people.
Relatedly, the team want to use this opportunity to appeal to the conscience of the Ogun people to stay at home and pray hard for a victory over the pandemic so the world and indeed, the Ogun people could enjoy their freedom of association, communal living and love once again.