BY ABUSATAR HAMED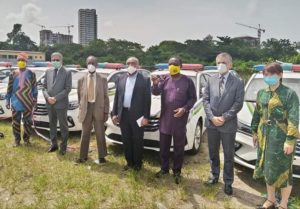 LAGOS: In continuation of the Corporate Social Responsibility (CSR) to its host communities, the Dangote Group on Friday, May 8, 2020 presented "tear-rubber" 25 branded security cars, each to Lagos and Ogun states Security Trust Funds.
Presentation of the branded GA4-200T cars to Ogun State Security Trust Fund took place at the Giwa Barracks, Ikoyi, Lagos and was graced among others by Mr. Opeyemi Ogbaji, Secretary, Ogun State Security Trust Fund who led other officials to stand in for Governor Dapo Abiodun of Ogun State at the event.
The brand new cars according to Mr. Emmanuel Ikazoboh, the company's Independent Non-Executive Director, were to assist the States to strengthen their security networks, adding that security was essential to economic development of the state.
Addressing the representatives of Ogun State Government at the event, Mr. Ikazoboh pointed out that the kind gesture was the contribution of Dangote Group for the protection of lives and properties of its host communities.
His words, "We gathered here today to hand over a total of 25 saloon cars to boost the Security Trust Fund of Ogun State. Our donation, which is to strengthen security in the state, is informed by the fact that security is essential to economic development.
"No investor will be willing to put his/her funds in an economy where insecurity is rife with lawlessness and chaos are order of the day. We are major investors in Ogun State and as such we prefer a state of orderliness and sound security which allows businesses to thrive".
Going down memory lane on the state's security trust fund, Mr. Ikazoboh said, "Ogun Security Trust Fund was established in 2011 and refined in 2019 by the Governor, His Excellency, Prince Dapo Abiodun. The objectives of the Fund include the maintenance of security and welfare of citizens.
"To ensure accountability, he set up a council with renowned public intellectual, Mr. Opeyemi Agbaje as Executive Secretary and foremost investment Banker, Mr. Bolaji Balogun as Chairman among many others to oversee its activities.
"On October 6, 2019, our then – Group Managing Director, Engr. Joe Makoju made a pledge on behalf of the company to present operational vehicles to the fund. As a corporate socially responsible organisation, the security and well-being of our host communities remains utmost in our minds.
"Therefore, a major step towards encouraging investments and creation of employments is promoting and ensuring adequate security in our environments. This is why we at Dangote Cement, fully appreciate your State government's several initiatives in the promotion of security and a safe operating environment for business".
Mr. Ikazoboh was of the opinion that government alone cannot continue to bear the full cost of meeting the expectations of the entire populace in the provision of basic necessities like health, education and security which according to him gave rise to Public Private Partnerships, where private sector collaborates with public sector in the provision of essential services.
He further stated that the company desire to partner state governments informed its interventions in construction of major roads in some states. Such as, Itori-Ibese road in Ogun state, Apapa-Wharf road in Lagos state and Obajana-Kabba road in Kogi state.
On the company efforts towards curbing coronavirus pandemic, the company Mr. Ikazoboh said, "We are at the forefront of combating the COVID-19 pandemic. We have adopted several protocols such as social distancing, provision of temperature scanners, hand sanitizers, face masks and sick bays, designed to secure the health of our staff at the Cement Plants. We have provided basic necessities to prevent infection and transmission of the virus in our Plants.
"We are using this opportunity, to call on other responsible corporate social bodies like ours, to join us in supporting the Ogun Security Trust Fund through provision of necessary operational tools. This collective support, we believe, will go a long way to ensure adequate security for all stakeholders in Ogun State."
Recall, Dangote Group had earlier presented 25 brand new cars to the Lagos Sttate government for the security of life and properties of Lagosians.