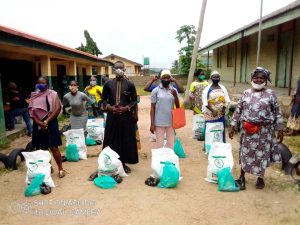 ABEOKUTA: The Ogun state government had distributed over 60,000 Take Home Rations (THRs) packages to identified vulnerable school children under the Federal Government Home Grown feeding Programme across its three senatorial district in the state in order to support the children with nutritious foods, despite the disruption in the school feeding programme occasioned by the Covid-19 pandemic.
This was made known by the Commissioner for Special Duties and Intergovernmental Affairs, Mr. Femi Ogunbanwo while addressing the newsmen in his office at Oke-Mosan, Abeokuta, the capital.
Ogunbanwo revealed that the distribution of the packages to the beneficiary households took off in Ogun Central Senatorial District of the state and was equally spread across the 283 distribution centres across the 20 Local government in the State.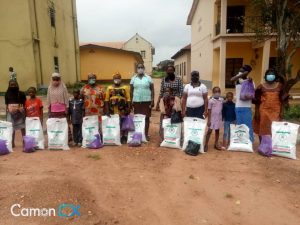 He noted that it became imperative to ensure that the right beneficiaries get the palliatives, saying it was a presidential directive that the Home Grown feeding programme in public primary schools should continue through sharing of raw food to pupils during the Covid-19 lockdown.
He added that the states has carried out a mapping exercise in order to identify the households of the children, using all available data sources, some of which include the School Based Management Committee (SBMC), cooks, Community leaders, PTAs and most importantly, existing school registers in the local councils where the schools are domiciled.
In her remark, the Special Adviser to the President on Home Grown School Feeding programme, Mrs Titi Adeyemi-Doro said the programme which basically modified the already existing School Feeding Programme was targeted at providing food package for over 60,000 households of pupils in public primary school from Primary 1 to 3 in Ogun state.
She said that the distribution of the Take Home Rations to the households of the children on the programme is a feasible method, after exploring several options of reaching children in vulnerable households.
"Each beneficiary of the package received a Take Home Rations made up of 5kg bag of rice, 5kg bag of beans, Vegetable oil, Palm-oil, salt, half crate of egg, tomato paste which is expected to assist the parents feed the children during the prolong holiday" she revealed.
Responding on behalf of beneficiaries, Mrs. Mulikat Abraham thanked the government for providing the ration, saying the gesture was timely for her family.