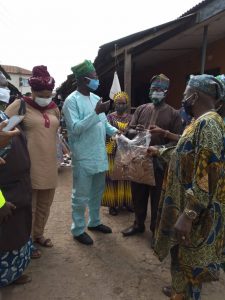 ODEDA EGBA: The Transition Committee Chairman, Odeda Local Government, Hon Semiu Bola Lawal, has commenced the distribution of free face masks in major markets, through the market leaders within the Local Govt area, starting from Gbonagun, Osiele and Odeda markets, with a promise of getting to all  other markets, during the distribution period. 
According to a press release e-signed and made available to StarTrend Int'l magazine & www.startrendinternational.com by Surajudeen Adebesin, Chief Information Assistant, Odeda LG., the Chairman, who disclosed that it was part of the Ogun State Government efforts, in curtailing and containing the Covid-19 pandemic, stressed the fact that wearing of face masks was mandatory in the State, which would, according to Hon. Lawal, be invariably enforced in Odeda LG area.
He, therefore, used the opportunity to sensitize the market men and women, on the importance of the use of the face masks, as a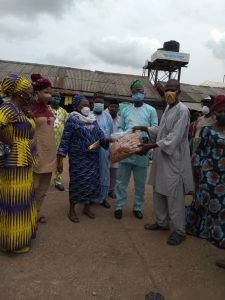 protection against the droplets from an infected person, warning that anyone who refused to comply with Government's directives would be made to face the wrath of the law.
Hon Lawal reiterated the importance of regular handwashing, as well as the use of sanitizers and other preventive measures, with gratitude to the State Government, under the able leadership of Governor Dapo Abiodun, for the donation of all the face masks, as part of Government's relentless efforts, in the fight against the spread of Corona virus disease in the State.