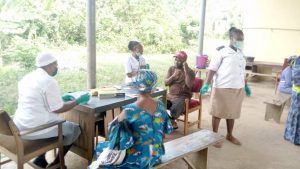 IJEBU-IGBO: In line with several preventive measures, embarked upon by the Ogun State Government, against the spread of Coronavirus disease, Ijebu North Local Government has, therefore, started the conduct of COVID-19 free testing, across all the nooks and crannies of the LG.
According to a press release e-signed and made available to StarTrend Int'l magazine & www.startrendinternational.com by Badmus Henry, Asst. Information Officer, INLG, the screening test, aimed at knowing the health status and the number of the affected persons was carried out by the Medical/Health personnel, in the LG.
Meanwhile, the LG Chairman, Hon. Jayeola Yekeen, has enjoined all the people, living in Ijebu North LG Area, to always make the best use of the medical and other facilities that the State Governor, His Excellency, Prince Dapo Abiodun, provided for the prevention and eradication of the Corona virus scourge, in the LG.