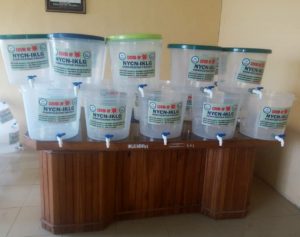 IKENNE-REMO: As part of the efforts to curtail the spread of Corona Virus, the Chairman Transition Committee, Ikenne Local Government, Hon.Rotimi Akinsanya held a meeting with representatives of Community Development Associations and National Youth Council, Ikenne LG chapters on the prevention and control of Covid-19.
According to a press release e-signed and made available to StarTrend Int'l magazine & www.startrendinternational.com by Adenusi Oyebola, Information Officer, Ikenne LGA., the Chairman in his address stressed that  mobilization and sensitization of the residents of Ikenne LGA were the panacea to curbing the dreadful virus.
He launched the Personal Protective Equipment such as customized buckets with tap, hand wash bowls and soaps.
The Chairman expressed his appreciation to the National Youth Council, Ikenne LG chapter for effectively partnering with the Local Government  on the campaign on covid-19 pandemic "stay safe"
The President, National Youth Council, Mr. Odumosu Gbenga thanked the Local Government for their cooperation and requested for more assistance to meet up with the budget projected for the campaign.
Chief Ade O. Onabowale on behalf of the Community Development Association also thanked the Local Government for carrying along the association in her various interventions on COVID 19
While  emphasizing the importance of hygiene, the Head of Local Government Administration (HOLGA), Ikenne, LG, Engr. Abass Muhammed Isola, said that after the Covid-19  pandemic was over, living  hygienic life should be part of THE local government area everyday culture.
Present at the meeting were members of the Transition Committee.