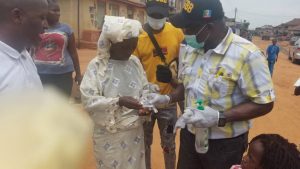 SAGAMU: The Chairman, Transition Committee of Sagamu Local Government, Hon. Gbenga Banjo, has assured the people, living in the local government area, of his administration to continued support for the various measures, so far taken, by both the Federal and State Governments, in their concerted efforts, to put an end to the coronavirus  pandemic.
According to a press release e-signed and made available to StarTrend Int'l magazine & www.startrendinternational.com by Lola Adeyinka, Director Information, Sagamu Local government, the local government boss, stated this, while addressing the people of  Epe, Ayegbami and other towns,  within the local government area , in line with the directive of the Ogun State Governor, Prince Dapo Abiodun, that all the local governments in Ogun State, should embark on ward to ward aggressive sensitization and rigorous campaign on COVID-19.
In the course of the sensitization, Hon. Gbenga Banjo advised the people to always maintain clean and hygienic environments, during this period and at all times, in order to avert the spread of the Coronavirus, in the local government Area.
During the sensitization campaign, the local government  boss distributed food stuffs and hand sanitizers which he demonstrated, as well as encouraged them to always use, especially when water was not available.
On the Chairman's sensitization trail were, his Committee members, HOLGA, Otunba Wale Bamiro, members of the local government Emergency Response Committee and other Principal Officers.