By Debby Olutayo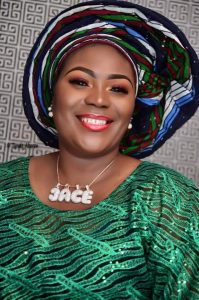 YEWA-OGUN: As a way of cushioning the effect of the stay at home order of the Federal Government to curb the spread of coronavirus ravaging the world, members of Faces of Yewa Indigenes Foundation (FYIF) and other well meaning sons and daughters of Yewaland in Ogun State have given Five Thousand Naira (N5,000) each to Seventy (70) citizens of the area.
According to a press release e-signed and made available to StarTrend Int'l magazine & www.startrendinternational.com by Princess Adeyinka Adedokun (3ace), founder of FYIF she explains that beneficiaries of the "Stay At Home Relief Cash" were picked from the organization's WhatsApp platform, and that the money was for them to add to their food budget and purchase data or airtime in order to be able to stay in touch with their loved ones.
Princess Adedokun said, "As a way of contributing to the effort of Ogun State government in curtailing the spread of the deadly Coronavirus (COVID-19) and to ensure that more Yewa people stay at home during the lockdown ordered by the government,
"Against this backdrop, Faces of Yewa Indigenes Foundation (FYIF) with the support of some sons and daughters of Yewaland, including a son of Remeland based in Yewaland are supporting 50 citizens of Yewaland that were picked from FYIF WhatsApp platform for a token of N5,000 each, but we ended up giving 70 people.
"The gesture of support, though very small, was meant to be used by beneficiaries for their food budget and also use part of it to purchase data or airtime for them to stay in touch with their loved ones during this lockdown".
Princess Adedokun who appreciated and thanked members and non-members of the organization for their immense financial contributions said, "Im highly greatful and delighted for the full support given by people of like minds for the FYIF "Stay At Home Token"
"These people include Prince Adeosun (Aare of Idogo and Oba Aare of Europe who is based in Dublin), Mrs. Busola Taiwo (USA), Mr. Olaseni Ajibogun (United Kingdom), Mr.  Olalekan Olurin (Canada), Dr. Idris Allinson (Nigeria) and my  humble self, Princess Adeyinka Adedokun 3ace (Dublin)
"Faces of Yewa Indigenes Foundation is very appreciative of our father, Prince Adeosun, Aare of Idogo-Yewa and Oba Aare of Europe, who did not hesitate in supporting the idea of lifting our people during the Coronavirus lockdown. We are so grateful sir. E o pe fun wa sir. A o ni jabo ni eyin yin laye.
"The foundation is also very appreciative of our brother Mr. Olaseni Ajibogun who was also very quick in supporting this idea. You heard and you even tell another person. Thank you so much. You are simply wonderful.
"I'm not forgetting my brother – Dr. Idris Allinson, we wish there are bigger words than THANK YOU. Though you are from Remoland, but you chose to be part of this gesture of care for Yewas. We highly appreciate you for your love for Yewaland. At Faces of Yewa Indigenes Foundation we consider you a blessing to our land, Yewa. Thank you so very much brother. May God continue to enlarge your coast.
"To Mr Olalekan Olurin, we want to say thank you  so much for your readiness to support immediately you heard of the plan from Mr. Olaseni Ajibogun. We so much appreciate your good spirit. Thank you so much brother. May the almighty stamp your good dream for Yewaland".
Princess Adedokun stated further, "So grateful we will always be to Mrs. Busola Taiwo, the junior sister to the great Yewa Culture Ambassador, Taiwo Hassan Ogogo for the superb enthusiasm with which you received the idea of helping our people with tokens for them to cope during the lockdown. We are grateful, sister!
"We nor forgetting our Big Sister and mentor, Yetunde Odebiyi, we are on our knees saying thank you so much sister. You left a great impression on us for hearing just a couple of hours to the start of account dropping on the platform and you decided to join forces to put smiles on our people faces. Thank you so much ma".
3ace however implored the beneficiaries to expend the little amount given them judiciously, while praying that Almighty God would heal the world and grant everyone good health and long life to tell the story of the days of coronavirus to generation unborn.
Princess Adeyinka Adedokun is a woman with passion for gender equality, women empowerment, youths and community development, hence her position as the Resources Mobilisation Officer for Commonwealth Women's Organisation (CWO) and Women for Peace and Gender Initiative (WOPEGEE), an NGO in the Diaspora. As empowered by the Chief Executive Officer of Commonwealth Women Organisation, Mrs. Mojisola Akinsanya-Peters.
Princess Adedokun has been representing the European Union, USA & Canada for both organisations since 2013.
At present, Princess Adedokun is an undergraduate at the National College of Ireland, studying Human Resources Management and also working presently with relevant experts to float a television show called 3ace Reflections TV Show.
This woman of honour has collections of awards to her name which include: -Recognition Award from Arewa Ogun & Global Exposure in December 2015, -Humanitarian Award from Atoto Iwe Iroyin for contributions towards the development of Yewa Communities in August 2016, -Humanitarian Award from Ogun Ambassadorial Award UK in 2016 and Meritorious Award from Edunjobi Ejire Association of Ilaro-Yewa in 2016.
Others are Special Recognition Award by Federated Chapel of the Nigeria Union of Journalists (NUJ), Ogun State Branch in July 2017. -Award-of Excellence from Ogun Heritage Awards in May 2018. -Entrepreneur of the Year Award from City People Magazine in June 2019 -An award of Recognition by the frontline Yewa socio-cultural association, Yewa Think Tank during the association's 25th year anniversary in December 2019.
Princess Adeyinka Adebukola Adedokun 3ace is happily married with children; she enjoys reading, traveling and meeting people.