Founder of the Synagogue, Church of All Nations (SCOAN), Prophet TB Joshua in the course of responding to a question regarding the coronavirus epidemic on April 2020, has warned of a "retaliation", whilst describing the outbreak "as an error in advanced technology".
Recall, since Prophet Joshua initially declared coronavirus was the result of "an error in advanced technology" on April 5, 2020, increasing revelations have arisen about the role of Wuhan Institute of Virology in the emergence of the disease.
"As I said, I see it as an error in advanced technology," Joshua wrote on Facebook to his over four million followers.
"In the nearest future, expect this kind of error – in retaliation," he proceeded to cryptically warn.
"World leaders and scientists know what they are doing; that is why they keep promoting fear and panic. They know the gravity of the situation. The whole thing has to do with error in advanced technology," TB Joshua had stated during an exclusive interview on Emmanuel TV.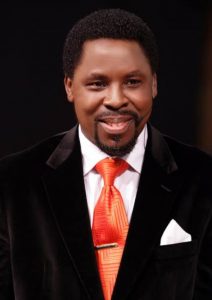 A second wave of cases has recently hit China's capital city of Beijing, sparking fears and suggesting linkage with TB Joshua's proclhistion of "retaliation" coming "in the nearest future".
However, US President Donald Trump suggested he had seen evidence coronavirus originated in these Chinese laboratory, confirming this message.
Earlier the US national intelligence director's office said it was still investigating how the virus began.
*https://www.youtube.com/watch?v=QduwIeFQ-o4