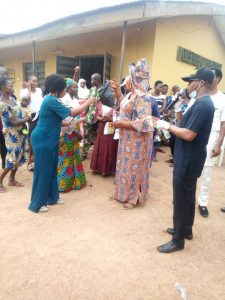 ABEOKUTA: In a bid to complement the efforts of the Federal and State Governments to curtail the spread of corona virus, the Chairman, Transition Committee, Abeokuta South Local Government, Hon. Ayodeji Michael Shomide, has embarked on the distribution of free hand sanitizers and gloves to market men and women, within the Local Government Area. .
According to a press release e-signed and made available to StarTrend Int'l magazine & www.startrendinternational.com by Onaade Caroline, Senior Information Officer, Abeokuta South LG, during the distribution exercise, the LG Boss made it known that his government was very much concerned about the well-being of the people living in the Local Government Area, most especially on health matters and the dreaded corona virus,  ravaging the world.
He, however, admonished the people to avoid handshakes and hugs, and also take cognizance of other highlighted precautionary measures, adding that preventive steps were better and essential for the protection of the people.
In the entourage of the Chairman were members of the LG Transition Committee, members of Emergency Response Committee on COVID-19, Political functionaries, and Principal Officers.