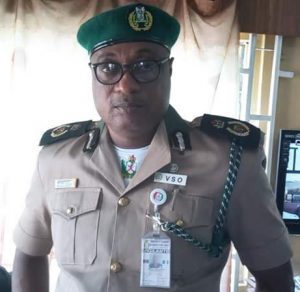 By Raymond  Osho 
ABEOKUTA: A couple In Ogun State, Muyideen Tiamiyu and  Shola Tiamiyu has clamored for justice after being allegedly beaten up by operatives of  the So-Safe Corps during the lockdown.
Crying profusely while narrating their ordeal to Journalists at Iwe-Irohin, Abeokuta, the Ogun state capital on Friday, May 22, 2020, Tiamiyu explained that they were on emergency trip to the State's General Hospital in Ijaye area of Abeokuta for medical treatment when the security operatives stopped them, alleging them of violating the stay-at-home order.
According to Tiamiyu, his wife had been suffering from High Blood Pressure for a very long time and had been on medication before the lockdown, stressing that on the fateful day, his wife health challenge got worsen.
He stated that while explaining to the officers the urgency of the medical treatment, they hit them with the boot of the guns on their hands and necks, leaving them with various degrees of injuries and even threatening to kill them.
His words, " I was taking  my wife to hospital because she is suffering from high blood pressure although we used to go to Ifo General Hospital before the issue of coronavirus and due to the lockdown on Thursday, May 21, 2020, we decided to go to the State General Hospital at Ijaye, Abeokuta for her medical treatment.
"When we got to under the bridge at Itoku, we met men of the So-Safe Corps and they asked us where we are going, and I explained our mission to them, I even showed them the hospital card so that they could believe me, but instead one of the men, (we don't know his name) just hit my wife with the stick on her hand, and also used his gun to stab me on my neck."
Mr. Tiamiyu also revealed that his okada was seized after hours of humiliation.
"When I explained to them that my wife was sick and she needed urgent medical attention they said it was a lie that I went to bring unknown woman to cover up and when my wife replied them she was pushed down and beaten seriously, despite the health condition of my wife, and they also seized my bike which is still in their custody till now.
The wife, Mrs. Shola Tiamiyu who was crying profusely while explaining her ordeal in the hands of the So-Safe Corps added that the men of the Command beat her after she had told them of her health challenges.
Her words,"I am having high pressure, but on Thursday, May 21, 2020 when my husband discovered that I couldn't sleep he decided to take me to the hospital for medical care, but on our way we met some men of the So-Safe Corps and they asked us where we were going, and we told them our mission. I even shown them my hospital card, but they didn't believe, they just started to beat us and threatened to shoot me and my husband."
The woman however cried out to the Commander of the So-Safe Corps, Mr. Ganzallo to come to their rescue, saying that the seized bike is the only source of income for his husband.
Efforts to speak with the Command's spokesperson before going to press proved abortive as several calls put across to him were not responded to.