LAGOS: The President of CMC Gladiators, Ambassador Cornel Udofia, on behalf of members of the social group commended the Akwa Ibom Governor Emmanuel Udom for transforming the state into an enviable state in his five year reign as the Executive Governor.
According to a press release e-signed by and made available to StarTrend Int'l magazine & www.startrendinternational.com by Babatunde Odubanwo, Head, Publicity and Media Unit, CMC GLADIATORS, on behalf of Ambassador Cornel Udofia, President, CMC GLADIATORS, the release stated in parts, "When millions of Akwa Ibom voters exercised their franchise by electing a man who would steer the wheels of leadership, little did they know that they were electing one of the few Nigerians who understood integrity, valued humanity and a progressive by every word of it.
"Mr. Udom is a man whose nobility preceded his emergence on the stage. Behold, a man of substance, a core professional, a lover of his people, a democrat of true sense. Poised to delivering the dividends of democracy at all times, he like the biblical Emmanuel, represents the presence of the divinity.
"His prescient programmes aimed at uplifting the living standards of all Akwa Ibom indigenes is raised at highest mast; soft-hearted and easily approachable, another characteristic of a man of the people."
Ambassador Cornel Udofia stated further, "Committed to industrial development, health and educational improvement and a holistic drive towards making good of his manifesto to the people. Only recently did the state government introduced a concise approach to supporting farmers across the state.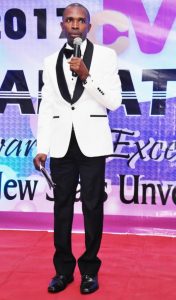 "During the national lockdown saga, Governor Udom ensured that he visited the isolation facilities and worked tirelessly in ensuring that the spread of the dreaded covid-19 is curtailed and eliminated in no distant time in the state.
"Let me also use this medium to express my sentiments as an Akwa Ibom citizen that I am. Dear Governor, you have written your name in gold. In the past five years, the changes that this present administration brought to Akwa Ibom state is enviable.
"Against this backdrop, the state is gradually becoming a Mecca for tourists and investors. I am proud to be from the state. I thank you for your achievements thus far, but reminding you that there are still a lot to be achieved and to be done. I pray that the good Lord that you serve will strengthen and grant you the needed wisdom to maintain the momentum till the end."