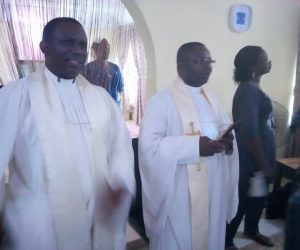 ILARO-YEWA – The Vicar in-charge of Our Saviour Anglican Church, Polytechnic Express Road, Temidire, Ilaro-Yewa, Ven. J.O.S. Akande has called on Nigerians to always thank God for His kindness over them and the country.
Ven. Akande made this admonition on Wednesday, June 23, 2021 at a Special Thanksgiving Service for AC Olorunfemi Ajayi on the occasion of his birthday.
The cleric who noted that despite the ups and downs in the country, God's mercy and kindness had continued to reign over the people and the nation urged Nigerian leaders to improve on the welfare of citizens who according to him are facing a turbulent period of their lives.
He also urged Nigerians to always be prayerful for the progress and peaceful coexistence of the nation.
Ven. Akande congratulated AC Ajayi on the occasion and prayed God to continue to bless, guide and protect him and members of his household.
In his sermon at the event, Ven. E.O. Olaoye, the Assistance Priest at Our Saviour Anglican Church, Ilaro, thanked God for His mercy and kindness over the celebrant and his family,
Ven. Olaoye noted that it's a good thing to remember the day we came to the world and use the occasion to give adoration to God for keeping us till date.
The cleric described AC Ajayi and his wife, Hon. Bola Ajayi, representing Yewa South Local government as a Godfearing couple, devout Christians and philanthropists.
In his vote of thanks, AC Olorunfemi Ajayi expressed his gratitude to God for His mercy and kindness over him and his family.
AC Ajayi said he would forever be grateful to God for being alive to celebrate another year in good health, saying, God is indeed good to him and his family.
Also speaking at the event the wife of the celebrant, Hon. Bola Ajayi, thanked God for guiding and protecting the family to witness another birthday of the father of the house.
She also thanked relatives, friends and well wishers for their continued support to the family, praying God to bless them.
Friends and family who spoke at the event included, Mr. Adam Sangosina, Mrs. Odukoya and Mr. Adebayo among others.
The celebrant with his wife and guests later moved to the School for Children with Special Needs, Ilaro, Yewa South Local government, where various food items were presented to the students.