ILARO-YEWA: Death, the cessation of life has been affirmed as inevitable for all human beings which no one on earth can escape.
This affirmation was made by Venerable Abraham Ibikunle of Cathedral Church of Christ, Onala Quarters, Ilaro, headquarters of Ogun West, during the interment of Late Prince Atanda Ezekiel Oniyide at the church cemetery, situated along Papalanto/Ilaro Express road, Ilaro.
Delivering sermon at the cemetery, Ven. Ibikunle while affirming the inevitability of death, implored few people at the burial event to endeavour to do good and God's will at all times, pointing out that only what every human being do while am be shall be remembered by his/her people after death.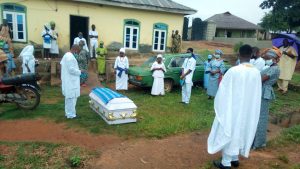 The cleric said that death is the only way to heaven and only thing that brings us closer to God or Satan, depending on how we lived our life while on earth.
Ven. Ibikunle further advised people to desist from sin and accept Christ as their saviour while urging the children of the deceased to remain united and always remember their late father in prayer.
Appreciating people that attended the burial despite the Covid-19 pandemic across the country, one of the deceased son, Mr. Adeniyi Adedokun Oniyide described his late father as a very caring, loving, affectionate and good father to all his children, especially in the area of education, good moral and fear of God.
He called on every member of Oniyide's family to at all times emulate their late father by moving more closer to God and serve Him whole hearthedly, saying that the deceased while alive never take the art of worshipping God with levity.