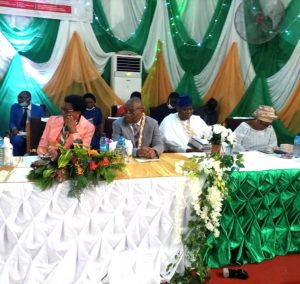 ILARO-YEWA – Stakeholders in the educational sector have been called upon to channel Technology and Vocational Education Training to solve unemployment, poverty, insurgency and banditry ravaging the country.
The immediate past Executive Secretary, National Board for Technical Education (NBTE), Dr. Masa'ud Adamu Kazaure disclosed this recently in his lecture, titled, "Repositioning Polytechnic Education Towards Addressing Technological Challenges of the 21 Century", at the first Raheem Adisa Oloyo Annual Lecture in Ilaro, Ogun state.
Dr. Kazaure was of the opinion that technology and Vocational Education Training of the 21 century should address the problem of skilled workers with continuous enhanced skill levels to meet the needs of new industries and production patterns.
The guest lecturer pointed out that as Nigeria aspires to become a major player in the world economy in the 21 century, the Stakeholders in the sector should focus on skilled and competence workforce to achieve such goal.
Dr. Kazaure said that according to the National policy on education, the major players must use vocational training to provide trained manpower and provide technical knowledge as well as vocational skills necessary for agricultural, commercial and economic development with a view to making individual self reliant economically.
He therefore called on the government to see the need to develop a national skills and employment policy for the purpose of eradicating unemployment, poverty and insurgency in the country.
Earlier, the Chairman Board of Governing Council, The Federal Polytechnic, Ilaro, Dr. (Mrs) Veronica Ogbuagu, said that the lecture will address some serious challenges facing technological education in Nigeria.
She noted that government policies and strong political will should be able to provide advancement for science and technological education in Nigeria.
Dr. (Mrs) Ogbuagu hinted that the importance of Polytechnic education for any nation that wants to maintain its Independence and sovereignty are so enormous.
She however called on the government to as a matter of urgency meet the financial challenges facing polytechnic education to meet infrastructural development, security challenges, intra campus roads among others.
According to the Chairman of the occasion, Professor Abubakar Sadauki, the immediate past Chairman, Board of Governing Council, The Federal Polytechnic, Ilaro, the Polytechnic education is the messiah for technological global advancement if well harnessed.
Prof. Sadauki urged the management of the Polytechnic to continue to uphold the tenets of the Polytechnic to achieve the greater heights.
In his welcome address, the Rector of Federal Polytechnic, Ilaro, Arc. Olusegun Aluko PhD., said that the lecture was meant to honour those who have contributed immensely to the development of the Polytechnic education in Nigeria.
Arc. Aluko assured that the Polytechnic will continue to contribute its quota to its immediate environment to enhance socio- economic development of the country.